Turkey's Merve Aydin pulled up injured but bravely finished the race some way behind the others and in tears, to huge cheers from the crowd.
Merve Aydin of Turkey pulls up early on with an injury, but hobbles her way round the course a la Derek Redmond. Tears are streaming down her face as she crosses the line. Devastating.
Merve Aydin was leading the contest until suffering an ankle injury that forced her to give up her hopes of winning the race.
Aydin, however, refused to yield and continued the race, limping and in tears.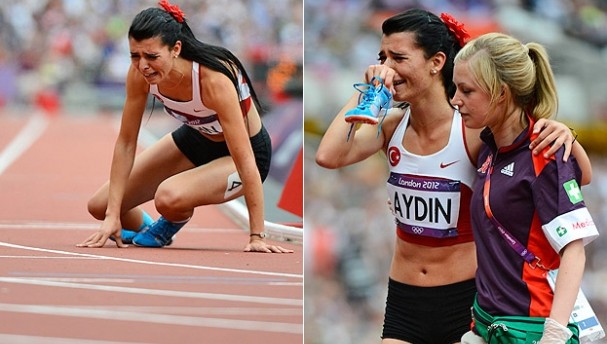 The Turkish runner had previously hit the headlines last year during a championship in Istanbul when she burst into tears after discovering during a TV interview that she had not made it to the finals despite previously being told she had by a reporter.