AC Milan teammates Gattuso and Cassano are now ill. Two players from the same team, at the same time show same symptoms of an possible illness, while everyone is seeking the reason behind the mystery.
Rome / NationalTurk – After the AC Milan midfielder Rino Gattuso held a press conference on a rainy afternoon to reveal that the sixth cranial nerve of his left eye was paralysed and the muscle linked to it was no longer working and worried Italian football, now it's the condition of Cassano that is of deep concern to the AC Milan community, Italian football and the whole Italian nation.
Late on last Saturday night as the Milan players were disembarking a charter flight home from the capital where they had inflicted a 3-2 defeat on Roma, Cassano reportedly felt feint and was lent up against the bus that was due to take them to the terminal at Malpensa.
Cassano : Stroke or Illness of Mystery
There were claims that his vision became blurry, and that he developed problems with his speech and movement. In the early hours of Sunday morning, Cassano was taken to hospital by AC Milan's medical staff where it's said he underwent tests on his blood and heart. He was then transferred to the neurology department at a Milano polyclinic for further examination.
Mystery shrouds the exact nature of Cassano's illness and the club has erected a wall of silence to ensure the footballer's privacy. As of yet there is no official diagnosis by AC Milan doctors, Cassano may be a public figure, but he is also a patient and has a right to privacy and confidentiality. Cassano's wife Carolina was at his side in hospital for almost the whole of Sunday. But what was apparent from the tears in the eyes of his mother Giovanna and the distress on the face of his wife Carolina yesterday is that even if Cassano's condition is said to be improving, he has had a real fright . Others aboard the plane say that during the flight Cassano got out of his seat to laugh and joke with teammates. Then as he walked across the tarmac to the shuttle bus, the Bari-born playmaker looked faint, tired and disoriented, had difficulty speaking and moving, and complained of blurred vision. At first, it was thought that he had had a sudden drop in blood pressure or been the victim of a violent intestinal virus. Cassano was taken immediately to the polyclinic for tests. 'The lad is not well and we are looking into it', was the sole comment from club physio Rodolfo Tavana, who was at Cassano's bedside from the moment he was hospitalized on Saturday evening. The player is believed to have gone home in the early hours of Sunday morning but was taken ill again.
Cassano's state of health is not thought to be serious and his clinical situation is reported to be improving. The symptoms that prompted hospitalisation – blurred vision, disorientation, fatigue, difficulty in speaking – are said to have been resolved. Nevertheless, a temporary break from football may be necessary so doctors can carry out further tests and identify the cause of the illness with certainty.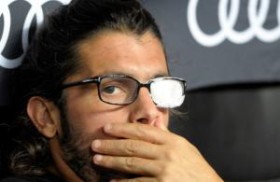 Gattuso has not played since and at first feared that the affliction not only threatened his career but his life too. He has been present at San Siro on match days with the left lens of his designer glasses covered with a bandage and he will be out for at least four months.
' Before I saw triple and now double, so I am improving a little. Football is no longer the central part of my thoughts. Now every day life is more important: it's awful not being able to take the kids to school, not being able to drive. I find it hard to watch the TV and also to write an email on the PC: I see objects in one place while in reality they are in another. If you are not strong mentally, it's very tough.'
Cassano and Gattuso : Illness linked to brain and nerve system
The Italian news agency ANSA reported last night that the initial diagnosis for Cassano's condition was a transient ischemic attack or mini-stroke. Milan reacted by releasing a statement to the effect that it was 'hypothetical' and 'cannot possibly be verified as they are from neither the club's medical staff, nor the doctors at the Policlinico di Milano who are caring for him.'
These kind of illness occur only once in 15 years in a team, Milan now suffers from two at the same time
We as NationalTurk consulted former football coaches and physios for their opinions on the conditions of both Gattuso and Cassono. The two teammates' illness occurred at the same time and it is linked to brain and nerve system as the similar symptoms indicate. 'It is highly unlikely, these illness symptoms could be traced back to natural causes' Hürser Tekinoktay, a former Turkish coach revealed: ' The reaction the bodies of Cassano and Gattuso have been showing are disorientation and lack of body coordination'. These are serious and alerting, as they are reactions, where chemical compononents of our nerve systems play a huge role, AC Milan has an old squad and plays many matches in a short period of time, the bodies of footballers may have been pushed to their natural limits with unorthodox methodes.' 'These kind of illness shows up in a team only once or twice in 10 – 15 years, yet there are two examples in a very short period of time' Tekinoktay underlined.