A banner showing Muslims as barbarians and animals will soon be hung in every New York subway stop after a New York court decided that the anti-Islam message will be displayed in public, according to New York Times.
New York / NationalTurk – The banner reading 'In any war between the civilized man and the savage, support the civilized man. Support Israel, defeat Jihad,' was funded by radical conservative blog writer Pamela Geller and will be put up at 10 different locations in New York.
The New York Metropolitan Transit Authority had previously declined to put up the controversial banner, after which Geller had applied to court.
It's Always Freedom of Speech : Speech from arses
Judge Paul Engelmayer ordered New York city authorities to put up the anti-islam banner on grounds of freedom of speech.
A representative for the Metropolitan Transit Authority tated they now had to put up the insight fountain of a banner following the court ruling.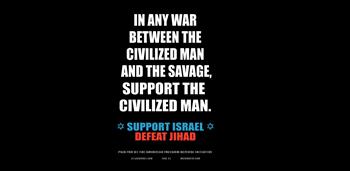 The same banner had been placed on buses in western US city of San Francisco through August and September and had raised concerns over Islam – Christianity struggle.
Several Us artists have asked the organizers to replace the word "Jihad" with "racism," but Geller firmly and defiantly refused.
Pamela Geller has a right to be a fascist, bigot and spineless - Council on American-Islamic Relations
The head of the Council on American-Islamic Relations' (CAIR) New York branch, Muneer Awad, says they recognized "freedom of speech issues and [Geller's] right to be a bigot and a racist" but wished New York authorities had condemned Geller's hate speech attempts.
Stop Islamization of America movement by Pamela Geller
Pamela Geller is among founders of the ' Stop Islamization of America' foundation which has been accused of being a hate group by international nongovernmental associations. Classical scenario of dog eat dog..Let 2 radical sides destroy eachother for a peaceful world..