Manchester United landed in perhaps the softest group on paper, but Sir Alex knew in the past Galatasaray.
Manchester United were drawn to face Braga, Galatasaray and CFR Cluj in Group H. Manchester United will look to build on the failure of the squad in European competitions last season. After making an exit from the Champions League and being eliminated from the Europa League a year ago, United was hoping for an easy draw in this year's edition of the Champions League. Quite frankly, the team could not have hoped for a better draw.
Manchester United will play in Group H, which will feature SC Braga, Galatasaray, and CFR-Cluj, which I would think makes United the odds on favorite to advance in the group. Sir Alex will need to field a lineup that will get the team into the knockout phase of the tournament and avoid a repeat of the disaster that was last season, which oddly enough featured similar competition. Sir Alex has pledged to field his strongest side, according to ManUtd.com, which is good news to Manchester United fans across the globe.
I believe the number of high caliber strikers at the front of the Red Devil attack will come in extremely handy as the team looks to drive forward in domestic action while at the same time advance in the Champions League. Robin van Persie, Danny Welbeck, Chicarito Hernandez, and even Dimitar Berbatov (if he is still with the club) will likely find lots of work in the coming months. Assuming Wayne Rooney returns from injury, I would imagine he will find plenty of time on the pitch as well. Really, trying to find playing time for all those top quality players has to be a nice problem to have.
The question mark remains United's defense. Despite the acquisition of Alexander Buttner, Manchester United will need Jonny Evans, Darren Fletcher, and the rest of the backline to stay healthy for the season. Of course, I love the calming presence of Nemanja Vidic in front of the goal as well, and it is good to see him healthy again. Even keeper David de Gea has seen some nice form so far this season.
Sir Alex Ferguson warns Manchester United against 'stupid errors' in Champions League
ir Alex Ferguson warned his Manchester United players they cannot afford to make the "stupid errors" they committed in Europe last season after the Red Devils were handed another relatively easy-looking Champions League group.
Manchester United are expected to qualify for the knockout stages of the competition after being drawn alongside Braga, Galatasaray and CFR Cluj in Group H.
Sir Alex Ferguson is conscious that his Manchester United side were predicted to make round two last year after being given a favourable draw against Benfica, Basel and Otelul Galati, however, and for that reason, he insists his squad cannot afford any slip-ups this time around.
Ferguson, who has bolstered his squad since last season by signing Robin van Persie, is also aware that his team will find it extremely hard to come through the test of playing in a very hostile environment in Turkey when they face Galatasaray.
"We have the experience of playing against Galatasaray in the past and we will always remember the 'Welcome to Hell' banners," Ferguson said.
Galatasaray team Analysis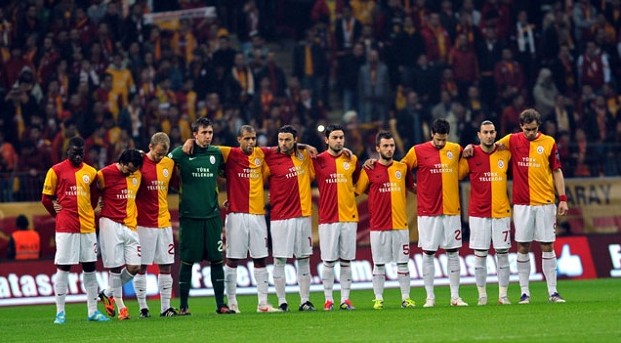 But Galatasaray there are serious problems. they did this year to many transfers and live in compliance the problem at the moment. already living in big problems in defense.
Veteran Czech defender Tomas Ujfalusi yesterday suffered a serious injury in training.  This  player  most important part of the defense line with the  former Arsenal defender Eboue.
Galatasaray mainly consists of Turkish national team players. Turkish football is not like 10 years ago right now. But United  must be careful because the Turkish teams always used to surprise. Uruguay national team goalkeeper Muslera Galatasaray, Emanuel Ebue, such as the Brazilian national team footballer Felipe Melo has experienced names.
Selcuk Inan's players need to be considered.This football player showed great development in recent years and is currently the only player in Turkish football European quality.Felipe Melo ve  Selcuk Inan key names in the Galatasaray's game layout Hamit Altintop with Bayern Munich and Real Madrid experience, we can put this to the list.
Galatasray the most serious rival to Manchester United in Group H, If you want to eliminate these team  you have to play the real old style British football. Because Turkish teams the solution have not come yet, this style of football