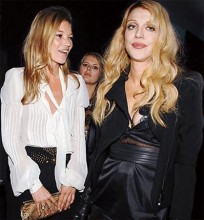 Courtney Love claimed that she had sex with top model Kate Moss.

Courtney Love has claimed she had a "fling" with Kate Moss years ago. The Hole singer also admitted Kate "doesn't care" if it is revealed.
The Hole singer says she and the supermodel had a fling in Milan, Italy, in the 90s but is adamant Kate won't care about her lesbian revelations.
Speaking to Hot Press, Courtney confessed: "It's a great story for the grandchildren so… yeah. Kate wasn't doing a lot of drugs. It was just a thing that happened in Milan in the '90s. It happened and it was fun and whatever."
And Courtney Love added: "She talks about it and so I hope she doesn't get mad that I outed her… I feel like such a kiss and tell… Kate's great, though! Kate's a good friend of mine."