The BBC launched the upcoming seventh season with a special screening in London last night.
Doctor Who carries injured assistant Amy Pond in his arms after an epic encounter with arch enemy the Daleks in an episode that'll have viewers on the edge of their seats.
The new series sees the exit of the Time Lord's companions Amy and Rory, played by Karen Gillan, 24, and Arthur Darvill, 30.
But fans are being kept in the dark as to whether they live or die.
The eagerly awaited five-part series starts at the end of this month, opening with a return of the most famous foes in Asylum of the Daleks.
Speaking as the BBC launched the upcoming seventh season with a special screening in London last night, executive producer Steven Moffat said: "We've been off the air for longer than usual, so it was an easy decision to come back with Doctor Who at its most iconic and that means Daleks.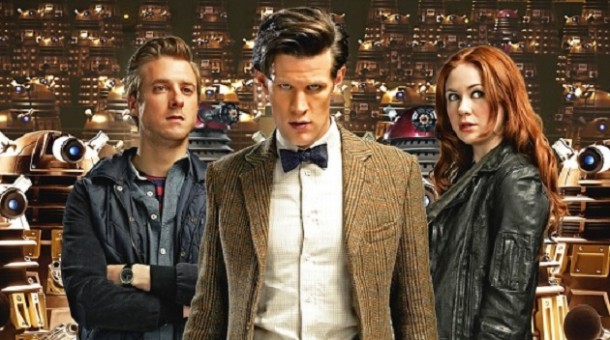 "Lots and lots of scary Daleks. There have been many monsters to face the Doctor over the years, but only one that can sum up the whole series just by being there.
"Also, it's my first go at writing for them. I LOVE the Daleks, and I've held off till now. But I had what I thought was a good idea, and couldn't resist any longer."
Doctor Who star Matt Smith added: "Asylum of the Daleks is going to be a cracker, Steven has written and absolute belter and we have made the Daleks scary again, something I am not sure we got right before.
"The day we filmed with all of those Daleks there was such an excitable atmosphere on set from cast and crew alike. It was a brilliant few days at work."
Matt, 29, also revealed he gets a bumpy ride in third episode, Dinosaurs On A Spaceship.
He said: "Riding a dinosaur was more painful than you can imagine, I had to wear padded trousers.
"Dinosaurs are a lot lumpier than horses, so it was a painful couple of hours though definitely worth it as it's going to look great."
Having looked back at Karen Gillan's stylish moments after she and fellow Doctor Who stars Matt Smith and Arthur Darvill attended the show's seventh-series premiere at the BFI last night (August 14), we celebrate Smith's signature 'peace sign' pose, and a few other stars pulling out his move too.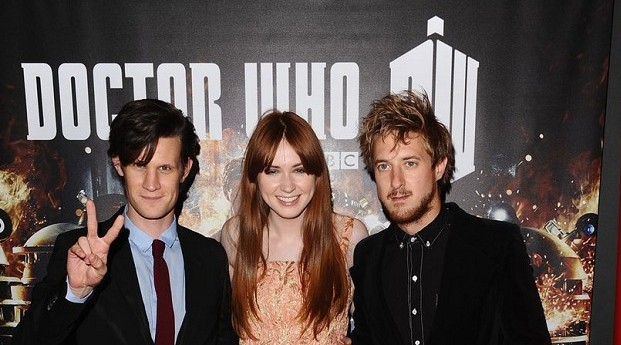 Watch Dr Who New Season Video Trailer: