Poland take on Greece in the opening match of Euro 2012 in Warsaw on Friday, with organisers hoping talk will switch to events on the pitch, after a turbulent build-up of political strife and infrastructure concerns.
The 2012 UEFA European Football Championship, commonly referred to as Euro 2012, will be the 14th European Championship for national football teams organised by UEFA. The final tournament is being hosted by Poland and Ukraine between 8 June and 1 July 2012. It is the first time that either nation has hosted the tournament. This bid was chosen by UEFA's Executive Committee in 2007.
Host Cities & Stadiums
Eight cities have been selected by UEFA as host venues. In a return to the format used at Euro 1992, Euro 1996 and Euro 2008, each of the four groups will be based around two stadiums each.
The host cities Warsaw, Gdańsk, Wrocław, Poznań, Kiev, Lviv are all popular tourist destinations, unlike Donetsk and Kharkiv (the latter having replaced Dnipropetrovsk as a host city in 2009).
The obligatory improvement of the football infrastructure includes the building of new stadiums: six of the eight venues are brand new stadiums currently being constructed ready to open in advance of the tournament; the remaining two (in Poznań and Kharkiv) have undergone major renovations to improve them.  Three of the stadiums will fulfill the criteria of UEFA's highest category stadiums.
Stadiums                                            
Warsaw Gdańsk Wrocław Poznań
National Stadium
Capacity: 58,500 PGE Arena
Capacity: 43,600 Municipal Stadium
Capacity: 42,800 Municipal Stadium
Capacity: 43,300
3 matches in Group A (including opening match), 1 quarter-final and 1 semi-final 3 matches in Group C and 1 quarter-final 3 matches in Group A 3 matches in Group C
WrocławKievLvivDonetskWarsawGdańskKharkivPoznań
Kiev Donetsk Kharkiv Lviv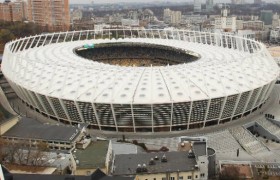 Olympic Stadium
Capacity: 60,000 Donbass Arena
Capacity: 50,000 Metalist Stadium
Capacity: 35,000 Arena Lviv
Capacity: 30,000
3 matches in Group D, 1 quarter-final and the final 3 matches in Group D, 1 quarter-final and 1 semi-final 3 matches in Group B 3 matches in Group B
Team Bases
The "Team Base Camps" are the accommodation and training bases for the teams. From an initial list of 38 potential locations (21 in Poland, 17 in Ukraine), the national associations chose their locations in 2011. These bases were the initial destination for all teams upon their arrival. The teams will then both train and reside in these locations throughout the tournament, traveling to games staged away from their bases. Thirteen teams are staying in Poland and three in Ukraine, in the following towns
Poland based
 Croatia – Warka (5 June)

 Czech Republic – Wroclaw (3 June)

 Denmark – Kolobrzeg(4 June)

 England – Krakow (6 June)

 Spain – Gniewino(5 June)

 Germany – Gdansk(4 June)

 Greece – Jachranka(3 June)

 Italy –Krakow (5 June)

 Netherlands – Krakow (4 June)

 Poland – Warsaw (28 May)

 Portugal – Opalenica (4 June)

 Republic of Ireland  – Sopot (5 June)

 Russia – Warsaw (3 June)
Ukraine based
 France – Donetsk(6 June)

 Sweden – Koncha zaspa, Kiev(6 June)

 Ukraine – Chapaevka, Kiev (6 June)