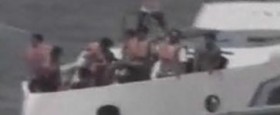 23 people are reported to have died and many are reported missing after a ferry sank off the coast of Sumatra in Indonesia.
But more than 200 others were rescued from the sea after the accident, which happened early on Sunday. Officials blamed the incident on bad weather and high waves. They say some people are missing but it is not clear how many.
Some reports suggested that the ferry, which had a capacity of 273 people, may have been overloaded when it sank.
According to its manifest, about 240 people were on board the Dumai Express 10 ferry when it sailed, but it is not clear if this was accurate.
Indonesia's sea transport director-general, Sunaryo, said rescue efforts were being hampered by bad weather. "The waves are as high as six metres, it's difficult for small ships to reach the location," he told a news conference in Jakarta.
Search efforts have now ceased for the night but officials say they will resume in the morning.
The Dumai Express 10 was travelling from Batam island to Dumai in Riau, Sumatra, when it sank.
Officials said it rolled over before capsizing about 90 minutes into its voyage.
Rescue efforts were aided by the fact that the ferry went down in the busy Malacca Straits between Indonesia and Malaysia.