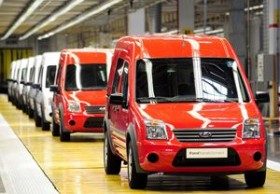 Ford Motor will recall its Transit Connect vehicles made in Turkey and exported to the U.S. in order to make a safety adjustment.

Umut Canpolat who is a spokesman for the company's Turkish unit, Ford Otosan said, recall is taking place at the request of the U.S. National Highway Traffic Safety Administration, and is voluntary rather than compulsory, Canpolat told Bloomberg on Monday. The change involves pushpins that fix interior lining to the car roof.
Canpolat said that the number of vehicles involved may be less than 20,000, and there will be no recalls in the other more than 60 countries where the Turkish-made Connect cars are sold.
Ford Otosan, Ford's joint venture with Turkey's Koç Holding, produces and distributes trucks and the Transit Connect light-commercial vehicle. The partners each hold 41 percent of the company, which produced 173,000 vehicles last year at its two sites in Turkey and had total sales of $3.7 billion, according to its website.
Ford's European sales have fallen this year as government incentive programs waned and rivals increased discounts.