Which is famous for a sex tape scandal former Spanish socialist hot councilwoman Olvido Hormigos semi nude on the cover of Spanish magazine Interviú.(Video)

Which is famous for a sex tape scandal  former Spanish socialist hot councilwoman Olvido Hormigos semi nude on the cover of Spanish magazine  Interviú.(Video)
A Spanish hot councillor who resigned after her home-made porn video went viral is posing topless to 'shut up her critics'.
Olvido Hormigos, 42, was forced to leave her position as a Socialist Workers Party electee in central Spain when a clip showing her pleasuring herself on a bed leaked online.
Now the primary school teacher and mother-of-two wants to put it all in the past by appearing in next-to-nothing in a Spanish magazine.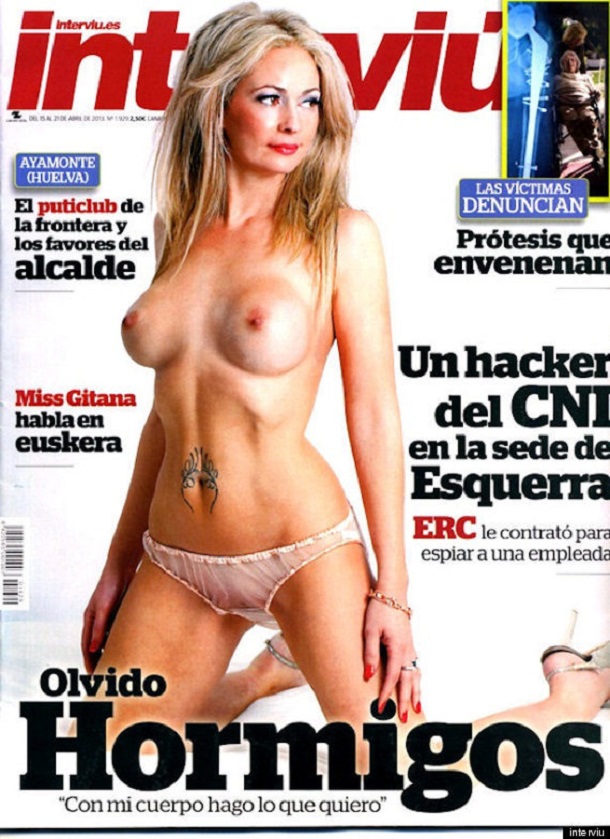 Ms Hormigos was forced to step down from her seat as councillor in Los Yébenes, Toledo, 80 miles south of Madrid, when the graphic footage she had sent to her footballer boyfriend was leaked on the internet.
The clip quickly spread around the town of 6,500 people before it was posted on YouTube and spread on social networks across Spain in September.
The latest edition of the Spanish magazine Interviú has given much to talk about after it included a photo of the former Spanish socialist councilwoman Olvido Hormigos semi nude on the cover.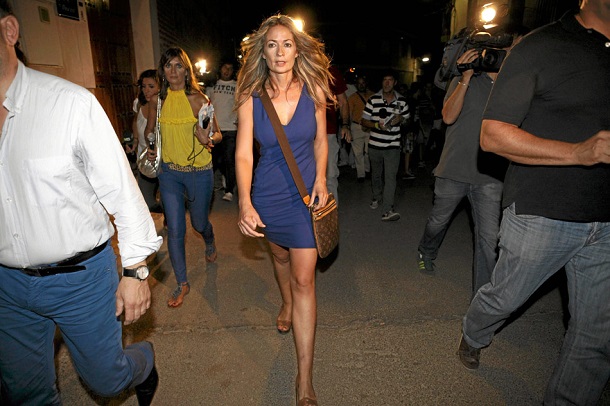 The picture shows the ex political leader who used to represent the city of Los Yébenes, Toledo region, on her knees looking to a side, wearing only a pair of transparent pink panties and high heels. In the interview with the magazine she confessed she took the picture to demonstrate she can do "whatever she wants with her body."
The decision came after a controversy sparked in Spain over the publication of a sex tape of herself that Hormigos had sent to a football player in September 2012 with whom she maintained a romantic relationship for three months.
In February, the councilor also decided to step down from her political role due to the enormous pressure and critiques she received after the video was released publicly.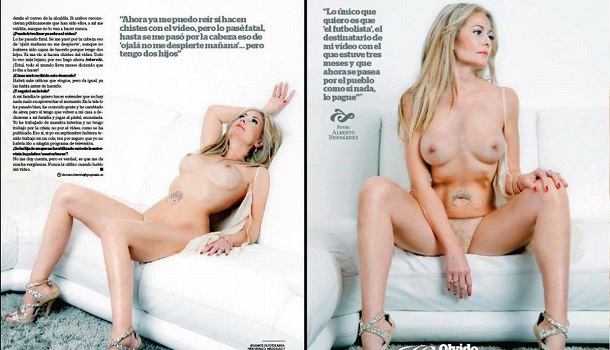 Now Olvido Hormigos, 42, says she only hopes the person responsible for the publication of the images pays for it, and looks forward to putting it all in the past.
"All I want is that 'the soccer player', the recipient of the video who I [dated] for three months and that now walks around the town as usual, pays for it," she said in the interview with Interviú. "People would think I am made of ice, but it was horrible, although I had to get on with my life."
In the end, the former politician says she has been able to get over it and move on with her life.
"Everybody has been saying for months that I was going to do it… Now I can laugh if they make jokes about the video," she said.
Watch Olvido Hormigos sex Video
[media id=871 width=610 height=340]