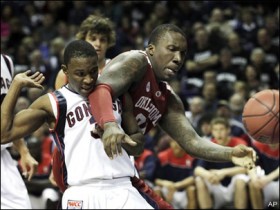 Steven Gray scored 18 points as hot-shooting Gonzaga beat Oklahoma 83-69. Elias Harris added 15 points and Bol Kong 14 for Gonzaga (10-3), which had five players in double figures. The Bulldogs shot 50 percent and made 11 3-pointers, many on wide-open looks.
That included four 3-pointers as they built a 25-12 lead in the first 10 minutes.
"You can't undervalue good shots," Gonzaga coach Mark Few said. "We shot the ball well from the 3 and from the free throw line, and that cures a lot of ills."
Willie Warren led Oklahoma (8-5) with 19 points. The Sooners have lost two straight.
Oklahoma's Tiny Gallon got the New Year's Eve festivities off to an early start when he shattered a backboard in the second half.
Gallon went up for an alley-oop with 15:34 left in the game. The 296-pound Gallon missed the ball but grabbed the front of the rim with both hands. The force shattered the glass backboard, showering players and some fans with debris. Gonzaga was leading 59-41 at the time.
Gonzaga's Robert Sacre said "I had to take a shower" to remove glass from his body during the 50-minute delay.
"We have a long way to go to be a good team," Oklahoma coach Jeff Capel said.
While the Sooners have a lot of young talent, Capel said that is not enough. He said his team did little well.
"Talent is overrated," he said.