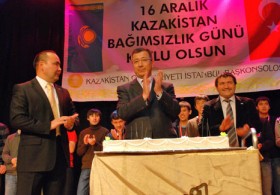 Kazakhstan started to celebrate the 19th anniversary of its independence on Wednesday with ceremonies across the country.
As part of the celebrations, Kazakhstan President Nursultan Nazarbayev attended a ceremony in the Akorda Palace in the capital city of Astana.
During the ceremony, Nazarbayev honored several artists and politicians with medals.
In his speech, the Kazakh president said that they had to preserve the independence with a great enthusiasm.
Kazakhstan declared independence on December 16, 1991. It was the last of the Soviet republics to declare independence.