BISHKEK – Kyrgyzstan is uneasy once again after supporters of Urmat Baryktabasov, Leader of the Meken-Tuu party and former presidential candidate, staged a protest in the centre of the Kyrgyz capital, Bishkek.
Video Kyrgyzstan violence as riot police disperse protesters.
Its organizers referred to the protest as a rally and announced that active people from the regions were its initiators.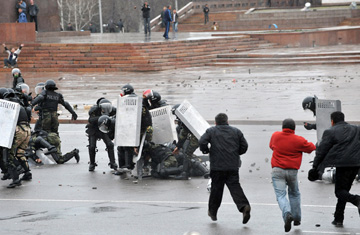 Urmat Baryktabasov was born in the Issyk-Kul region and became known as the organizer of the government house occupation in 2005. Criminal charges were filed against him in this respect.
Keneshbek Dyuishebayev, chairman of the Kyrgyz National Security Service said on Friday "As we were informed, they are planning to put forward a number of ultimatum demands,
"in particular, to terminate Baryktabasov's criminal case, dismiss some of the cabinet members and appoint their leader to high public office.
"If their ultimatum demands are not satisfied, they are going to take power by force."
As the protest was being held in Bishkek, Urmat Baryktabasov and a column of buses, which supporters of the wanted Party leader came on from Issyk-Kul, attempted to enter the capital city.
Law enforcement bodies and servicemen posted a cordon made from lorries and armor to block their way to the city entrance.
Keneshbek Dyuishebayev, also said "We've addressed the necessary measures in order to avoid destabilization of the situation in the city and public order infringements which may then grow into looting, robberies and the murder of peaceful citizens and inflicting damage to our businesses."
"On top of all that, according to our data, some of these people have weapons such as knives and pistols."
Negotiations between the sides involving Urmat Baryktabasov and the head of the Bishkek Department of Internal Affairs Zarylbek Rysaliyev, lasted several hours. However they turned out to be unsuccessful.
However, Urmat Baryktabasov's supporters became active and the law enforcement bodies had to resort to dispersing the group.
It is unknown as to where Urmat Baryktabasov is at this moment.
Write your comments and thoughts below.