Great Britain win the men's rowing four ahead of Australia to clinch Team GB's ninth gold medal of the London 2012 Games.
Andy Triggs Hodge in the stroke seat asks the crowd for more acclaim and they duly oblige with even more decibels. Australia won the final World Cup regatta of the season before the Games, but they never really looked like they could overhaul the British boat when it had got ahead. The United States were third.
Massive roars for Great Britain as they are announced in lane six of the men's four final. This is it. Deep breath.With 500m down it is neck and neck between Great Britain and Australia as the two boats pull away from the rest of the field in the men's four final. GB have a lead of 0.3 seconds as they pass through the timing mark.Great Britain's men's four looking smooth and relaxed as they put their backs into it a little more. Long powerful strokes double the lead to 0.6 seconds as they pass through 1000m ahead of Australia. The crowd noise is rumbling towards them from the grandstands.
The Australian boat look absolutely shattered by that result. Drew Ginn in their boat was going for his fourth Olympic gold. He will have to settle for silver. A team hug for the British boys as they climb out onto the pontoon and private words of congraulations exchanged between that band of brothers.
Alex Gregory: It was just simple. It didn't feel real. We just did the race and I was just counting strokes. I didn't look across but I was aware we were in front."
Pete Reed: "You run through everything about the race but don't think about afterwards. The hours we do and the pain and it is all worth it at the end."
Tom James: "I was trying to focus on our boat. When we got off the start and found our rhythm it felt good. It started raining and I thought this is what we do every winter when we train with the rain coming down. I can't describe what the atmosphere is like. It's magic, epic and emotional.
Andy Triggs Hodge: "What I felt down there was impeccable rowing. It was our masterpiece. Four years we have worked on that."
London 2012 Olympics News: Victoria Pendleton new Queen of Britain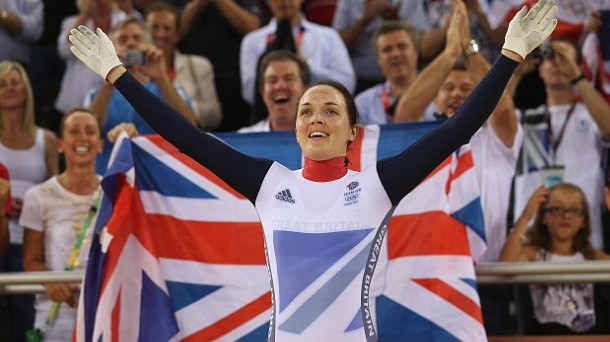 Queen Victoria reigns again. We are not used to seeing Victoria Pendleton blotchy-faced with matted hair, as she was after she and Jess Varnish were  disqualified from the team sprint on Thursday night. Not used to her apologising for a mistake that cost Great Britain the chance of an Olympic medal.
This was not what the 'queen of the track', the second most photographed British sportswoman at London 2012, promised us on the posters.
She is the woman who admitted she felt 'numb' standing on top of the podium in Beijing; the ice maiden poised, ready, on the start line betraying not a flicker of emotion as London's 6,000- capacity Velodrome swelled with support on Friday.
Pendleton was back up on the podium again, four years after becoming Olympic champion in the sprint, looking as if she belonged. That gold medal suited her far more than any airbrushed photo shoot.
But since that glorious moment in Beijing we have become more familiar with seeing Pendleton naked, semi-naked, smothered in paint in the pages of a glossy  magazine. Not winning, radiantly and ruthlessly, as she did again last night.
'I'm going to win and I'm going to want to win and I'm going to have nice long hair and it's going to be curly,' she said during an unguarded and insightful BBC documentary recently. It was delivered as a statement intended to inspire; a riposte to the  dinosaurs who still think female strength, speed and power means looking like the back end of a bus. As she battled to become the first woman to win an Olympic medal in the keirin, an event making its debut for women at these Games, this seems a particularly pertinent sentiment.
Why shouldn't Pendleton have it all? She works hard enough. If male athletes can get their kit off for a few quid, why can't she? There was no debate about whether it was empowering or degrading when a certain Mr Beckham started advertising underpants — just a gaggle of  middle-aged women queuing down the street to gawp.
As the Velodrome whirred around her, a hive of activity, she sat on a chair in the middle of the British camp, blocking it all out. There was a regal hand wave and a slight smile after she eased past her arch rival, Australian Anna Meares, in the first round, having stayed in the shadow of the derny and then found herself boxed in. She approached it differently in the second round; exploiting a tiny gap with one-and-a-half laps of the eight to go and never looked under threat.
Her sprint down the penultimate back straight in the final was just gripping. Suddenly she was up on Meares' shoulder and then she was in front, a position she was never going to relinquish, despite intense  pressure from silver medallist Shuang Guo of China.
London 2012 Olympics News: Untouchable British men's team in velodrome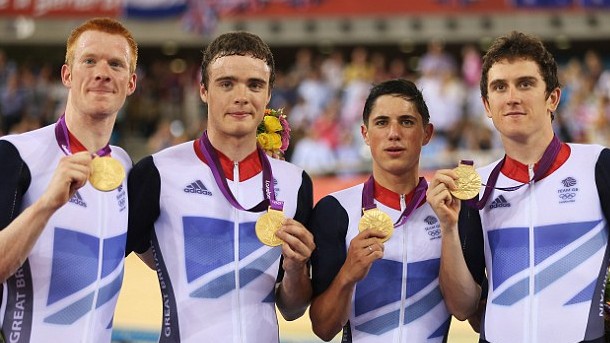 Victory made her the first British woman to win gold medals in individual competitions at two  consecutive Games.
'I wouldn't want another 24 hours like this,' she said. 'I'm glad to be retiring in a few days. It still goes through my mind why I put myself through this.
'It means a lot to be alongside the other great British women medal winners. It has not sunk in that I could be mentioned in the same breath as Kelly (Holmes) and Rebecca (Adlington). That will take a while. Maybe I can look back in a couple of years and say, "Yeah well done, Vic".'
She reached the final in fine form, emerging victorious from a tough, first-round field that included her old rival, Anna Meares of Australia. She dominated her next race to emerge in the final buoyed by success. No wonder. She had shown rapier speed on Thursday — she said she had never ridden faster — before the mishap struck.