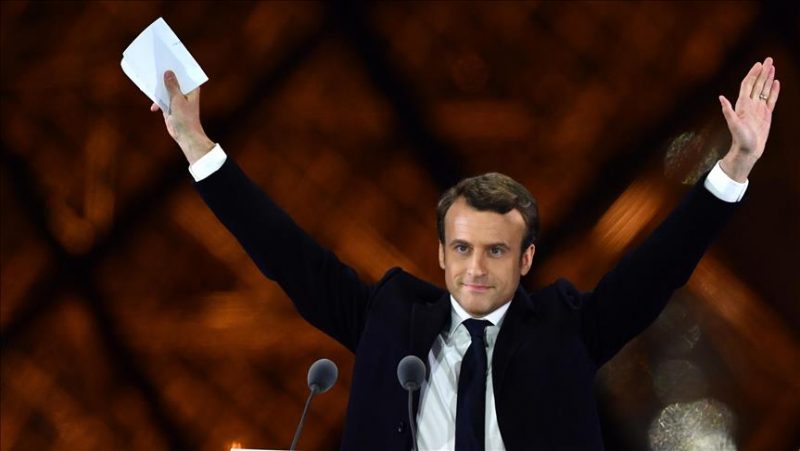 Victory likely to dramatically shake up country's political landscape / Macron Wins Landslide Majority In French Parliament
Victory likely to dramatically shake up country's political landscape / Macron Wins Landslide Majority In French Parliament
President Emmanuel Macron's La Republique En Marche (LREM)'s political movement is set to secure a sweeping parliamentary majority after securing 32 percent of the vote in the first round of legislative elections, results show Monday.
Macron's LREM and its ally, the centrist MoDem party, are looking to gain between 400 and 455 seats in 577-seat National Assembly's — far more than the 289 necessary for an absolute majority.
The victory for LREM, a movement launched by Macron less than a year ago, is considered a slap to mainstream parties, including the Socialist party that received less than 10 percent of the vote that will translate to a loss of 90 percent of its lawmakers.
The conservative Republicans and their allies trail in second place with 22 percent, allowing them to secure 70 – 132 seats. A result described as "disappointing" by party leaders.
The Socialist Party and its allies are projected to win 15 – 40 seats, far less than its current 277 seats and Jean-Luc Melenchon's left-wing La France insoumise (Unbowed France) party and the Communist party allies are expected to hold eight to 23 seats.
Socialist Party leader Jean-Christophe Cambadelis, who was eliminated in Paris, called the results "an unprecedented step back for the left as a whole and the PS (Socialist Party) in particular".
He said the massive majority Macron is projected to win is "neither healthy nor desirable" and warned against "unanimity" in parliament.
The far-right National Front of recently defeated presidential candidate Marine Le Pen is predicted to have between one to 12 lawmakers.
Speaking from the far-right stronghold of Henin-Beaumont in northern France, Le Pen, trying for the fourth time to win a seat in parliament, said she is well ahead in the constituency where she is running "more than 45 percent".
She said her party could win several seats in next week's second-round poll and urged voters to turn out in massive numbers. Seven to 12 seats will be claimed by other candidates.
Voter turnout hit an historic low with abstention in the first round reaching 51 percent, the highest level since 1958, according to Interior Ministry data.
In the last legislative elections in 2012, turnout in the first round stood at 57 percent.
"The huge rate of abstention shows that there isn't a majority in this country wanting the destruction of the labor code and the reduction of public freedoms, nor a mandate for ecological irresponsibility, nor to court the rich: all the things that are on the president's party's program," Melenchon said.
The Macron victory is the largest majority in France since Charles de Gaulle's landslide win in 1968. It would likely dramatically shake up France's political landscape.
Having an absolute majority in the National Assembly, France's lower and more powerful house of parliament, will allow Macron to govern more at ease during his five-year term.
There was more good news for Macron as five of his six Cabinet ministers running in the elections are leading in their respective races and have good chances to win in next Sunday's run-off.
A win by those candidates will allow them to keep their government jobs and they will not have to resign.