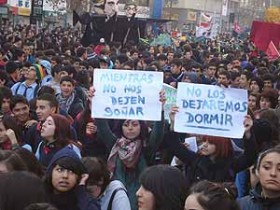 Pot banging and vehicle honking marked the start Wednesday of the citizens nationwide strike in Chile to demand deep changes in the socio-political structure in the country.
The pot banging as a political protest in Chile, used during the dictatorship of General Augusto Pinochet, began at midnight in squares and streets of cities like Valparaíso, Concepción, Valdivia, Puerto Montt, Pucón, Talca, San Carlos and Santiago, reported local radio stations and Twitter users.
The United Labor Federation of Chile (CUT), main organizer of the protest, has called on the people to peacefully express through assemblies and public demonstrations the social discontent with the current political and social system.
The 48 hour strike that started Wednesday is demanding the abolition of the Chilean Constitution, imposed by the military dictatorship of Agusto Pinochet (1973-1990).
Many labour organizations have joined the strike, including the Copper Workers Federation, students organizations and all the political opposition. CUT also demands reforms in the educational system.