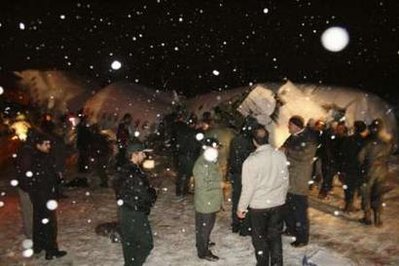 Plane crashed in the city of Urumiyeh which located northwest of the Iran, country official news ajency reported 77 killed and 8 wounded are critical.
At least 77 people were killed in Sunday's crash of a passenger plane in Iran's northwestern province of Azarbayjan-e
Gharbi, the official IRNA news agency reported on Monday.
Previous reports had put the death toll at 70, but the number had been expected to rise.
The Iran Air Boeing 727 with 106 on board crashed while attempting to land in bad weather in the city of Urumiyeh, located in a mountainous area near the border with Turkey, about 1,000 km (625 miles) northwest of the capital Tehran.
"Unfortunately, we lost 77 of our citizens and 27 others were injured," local official Nosrat Mollazadeh was quoted as saying by the state news agency IRNA.
President Mahmoud Ahmadinejad ordered an accelerated investigation while IRNA reported the plane's black box flight recorder had been found.
State television showed the wreckage of the plane, which appeared to have broken into several sections on impact. Huge gaps were torn in the fuselage, parts of which were open to the night air as snow fell.
Iran has suffered a series of crashes in the past few decades. U.S. sanctions against Iran have prevented it from buying new aircraft or spare parts from the West.
The last major air crash in Iran was in July 2009 when a Caspian Airlines Tupolev aircraft bound for Armenia caught fire in mid-air and crashed into farmland near the city of Qazvin, killing all 168 people on board.
One of the country's worst air accidents was in February 2003 when an Iranian Ilyushin-76 troop carrier crashed in southeast Iran, killing all 276 Revolutionary Guard soldiers and crew aboard.