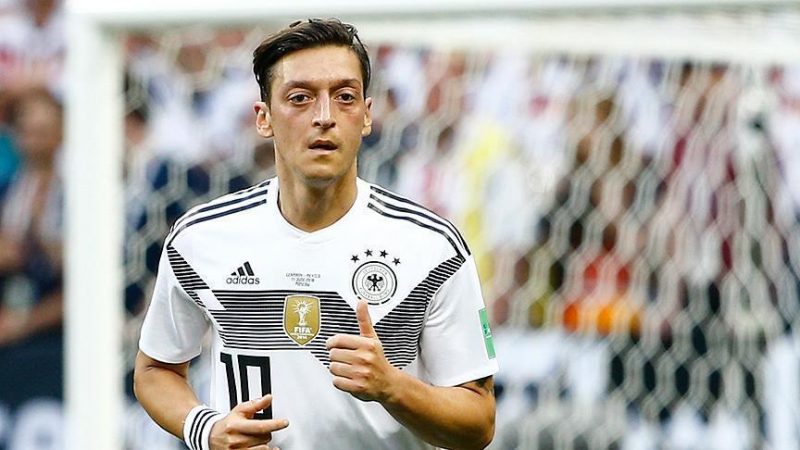 Renowned sportsmen, Turkish ministers stand with Turkish-origin footballer's decision
Reactions from Turkey and around the world poured in after footballer Mesut Ozil announced his retirement from the German national team, citing "discrimination and racism".
Turkish-origin Ozil has been under fire in Germany since May when he posted a photo with President Recep Tayyip Erdogan.
Germany's shocking group-stage elimination at the 2018 World Cup in Russia sparked more criticism of the 29-year-old footballer.
Ozil announced on Sunday evening "with a heavy heart and after much consideration" that he will no longer be playing for Germany at the international level, "while I have this feeling of racism and disrespect".
After his announcement to quit the German national team, reactions supporting Ozil poured in.
Turkish politicians hailed Ozil's decision.
"I congratulate Mesut Ozil who by leaving the national team has scored the most beautiful goal against the virus of fascism," Justice Minister Abdulhamit Gul wrote on Twitter.
Turkey's Sports Minister Mehmet Kasapoglu, sharing Ozil's photo with Erdogan, said: "We sincerely support the honorable stance that our brother Mesut Ozil has taken."
Hamza Yerlikaya, Turkey's youth and sports deputy minister, also dubbed the "Wrestler of the Century", said Turkey stands with Ozil and congratulated him for "standing tall against criticism".
"It was about me respecting the highest office of my family's country," Ozil said. "Whatever the outcome would've been in this previous election, or the election before that, I would have still taken the picture," he added.
"I am German when we win, but I am an immigrant when we lose," he said. "My friend Lukas Podolski and Miroslav Klose are never referred to as German-Polish, so why am I German-Turkish? Is this because it is Turkey? Is it because I'm a Muslim?" he asked.
Fellow German international Ilkay Gundogan, born in Germany to Turkish parents, was also present at the London meeting with Erdogan in May on the president's visit to Britain, as well as striker Cenk Tosun of Everton, who was born in Germany but plays for the Turkish national team.
Ozil also slammed German Football Association (DFB) President Reinhard Grindel for mistreatment and pursuing a political agenda, soon after he was criticized by politicians and media for meeting with Erdogan.
"I used to wear the German shirt with such pride, but now I don't," he said, adding that it has been an "extremely difficult" decision for him.
"But when high-ranking DFP officials treat me as they did, disrespected my Turkish roots and selfishly turn me into political propaganda, then enough is enough," he said.
"Racism should never, ever be accepted," he stressed.
Ozil's announcement garnered may reactions from the sports community.
2016 Formula 1 Champion Nico Rosberg shared a photo of Ozil holding the 2014 World Cup trophy and said: "Thank you Mesut. World Champion2014."
Ozil's teammate from English Premier League club Arsenal, Hector Bellerin, also supported his decision.
"Surreal that someone who has done so much for his country on and off the pitch has been treated with such disrespect. Well done Mesut Ozil for standing up to this behaviour!" Bellerin wrote.
Ozil's teammate from the German national team, Jerome Boateng, also took to Twitter and shared a photo of with Ozil, saying: "It was a pleasure Abi [big brother in Turkish]."
Another teammate from the German national team, Lukas Podolski shared pictures together with Ozil from the 2014 World Cup.
"A tournament and historic night we will never forget. World Champions forever! We won many times together, and sometimes we didn't, that's football but with you, it was always magical having you as a teammate for club and country," Podolski posted on Twitter.
"We've shared many funny moments and laughs together, and I'm sure we will again. Always be happy and keep your positive spirit," said Podolski, who formerly played for Turkish team Galatasaray.
FIFA World Cup's official Twitter account also posted a photo of Ozil.
"Congratulations on being a part of World Cup history while wearing the shirt, Mesut," it said.
Ozil is currently on a pre-season tour with his club Arsenal, where the English team will take on French champion Paris Saint-Germain and Spain's Atletico Madrid in the International Champions Cup in Singapore.