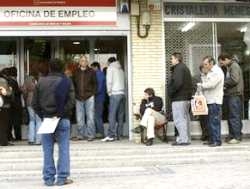 Spain ended 2010 with 4.1 million unemployed, representing a 4.5 percent increase over 2009, the Ministry of Labor and Immigration reported on Tuesday.
In the last year, another 176,470 workers joined the ranks of the jobless, 4.5 percent more than in 2009, the ministry said.
By sector, unemployment dropped in agriculture and services, with 6,867 and 30,409 more jobs, respectively, but rose in industry, with 6,197 more people unemployed, and in construction, with 28,976 layoffs.
The amount of people out of work affects some 2.53 million men, and 2.46 million women.
For men, unemployment rose by 25,623 in December, and for women, by 35,844, according to official estimates.
Compared to 2009, the number of unemployed men increased by 40,652 (20 percent) and women, by 135,818 (7.11 percent).