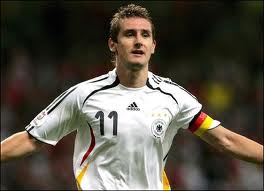 Turkish Leauge runner ups Trabzonspor interested in signing Bayern Munich's striker Miroslav Klose
Turkish Leauge runner ups Trabzonspor interested  in signing Bayern Munich's striker Miroslav Klose. Transfer News…
The experienced German international forward is out of contract this summer and the Turkish side is the latest  club to declare an interest in Mirosav Klose. The German international is out of contract and looks set to leave the Bavarian giants with the club decided not to offer him a contract extension.
Trabzonspor lost important players want to fill the gap
Trabzonspor are looking to strengthen their squad after finishing second in the Turkish Super League after a dissapointing season end and earning a spot in the Champions League qualifiers next season. The Black Sea outfit lost already 3 important players to Istanbul clubs, Turkey Internationals Selcuk İnan to Galatasaray and Egemen Korkmaz to Besiktas.
To fill the gaps club president Sadri Sener promised a star signing and has confirmed they are in negotiations with the player as Trabzonspor are eager to add the high-profile goalscorer to their squad.
"I promised the fans I'd buy a star. The negotiations are in full swing with Miroslav Klose, we will do anything in our power to convince him to come to Turkey," Sener told turkish newspapers. "As an attacker he would allow us to do well in next season's Champions League."
Miroslav Klose transfer to the Turkish League for Trabzonspor next season ?
Trabzonspor president Sadri Sener, who currently is in Belgium, following Turkey National Team. Turkey will play important Qualifier game against Belgium. Sadri Sener will leave the for Germany to talk and convince Miroslav Klose and close the deal.
The 32-year-old German striker has been linked recently with Serie A club Lazio who are looking also to add another striker to their ranks.
On Tuesday, Klose told Il Corriere dello Sport: "I am evaluating offers, and there is one  from Lazio."
Miroslav Klose endured a difficult campaign full with injuries last season for Bayern Munich, scoring only one goal in 20 appearances in the German Bundesliga. Trabzonspor will give Klose a lucrative contract and opportunity to play in the Champions League.
From €29 Madrid, Barcelona hotel reservation best services guaranteed.
Madrid Tours