The Apprentice candidate Luisa Zissman allegedly had a fling with a film director, She also a sex mad kisses female friend and sunbathes topless in a series of saucy snaps.(Photos)

The Apprentice candidate Luisa Zissman allegedly had a fling with a film director, She also a sex mad kisses female friend and sunbathes topless in a series of saucy snaps.(Photos)
The 25-year-old businesswoman Luisa Zissman is said to have had a four-month affair with Paris Leonti, while she was still living with her husband.
Leonti has produced a number of low-budget films in recent years, including Mercenaries with Billy Zane.
A friend claimed: "What Luisa wants, she gets. She loved hanging out with him as he's connected to lots of famous people and she's desperate to be famous.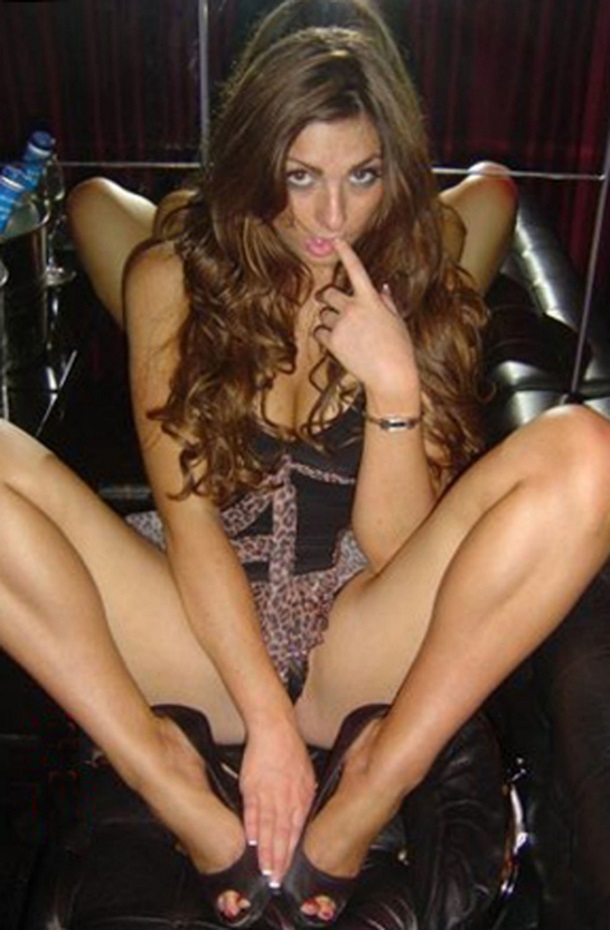 "It's remarkable she did it while under the same roof as her husband. But she's sex-mad and could twist an elephant around her finger."
Zissman eventually married partner Oliver in 2009 before running a cake shop together. However, they separated in March.
Photographs have also emerged of Zissman posing topless with friends and kissing a girl during a night out.
Zissman has also denied reports that she is dating fellow Apprentice candidate Jordan Poulton.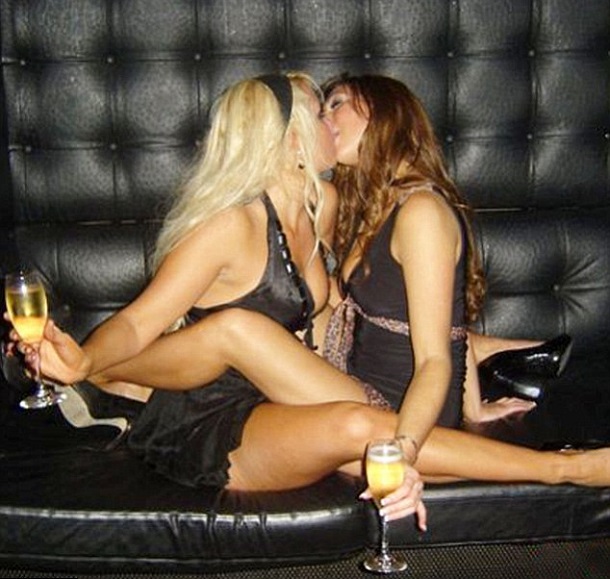 She was picked as one of the 16 'best business brains in the country' to appear on this year's series of The Apprentice.
But it seems that there's more to 25-year-old contestant Luisa Zissman than meets the eye, as a series of saucy images of the entrepreneur have emerged.
Striking a number of racy poses during boozy nights out, the mother-of-one can be seen kissing a female pal while scantily clad, sunbathing topless and creating her own lingerie shoots.
But even though she seems serious about winning over Lord Sugar in the boardroom, it seems that the young mum is also serious about partying.
In the online photos, the businesswoman, who describes herself as having: 'the energy of a Duracell bunny, sex appeal of Jessica Rabbit, and a brain like Einstein,' is pictured in a number of provocative poses wearing tiny outfits as she heads out with friends.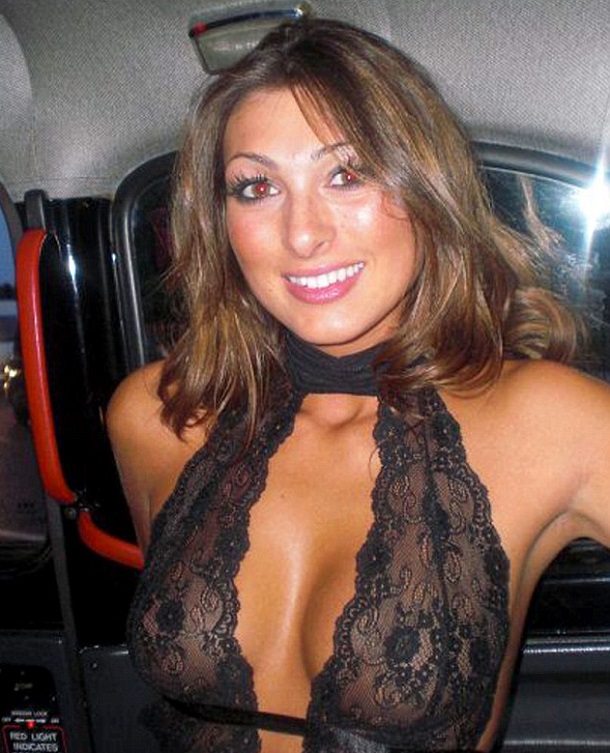 Most of the snaps show Luisa in barely-there halterneck tops, while one shows her bending over in a bar to reveal her lacy underwear.
In another, she seems to have forgotten her skirt altogether, as she walks down the street in just a top and a pair of knickers.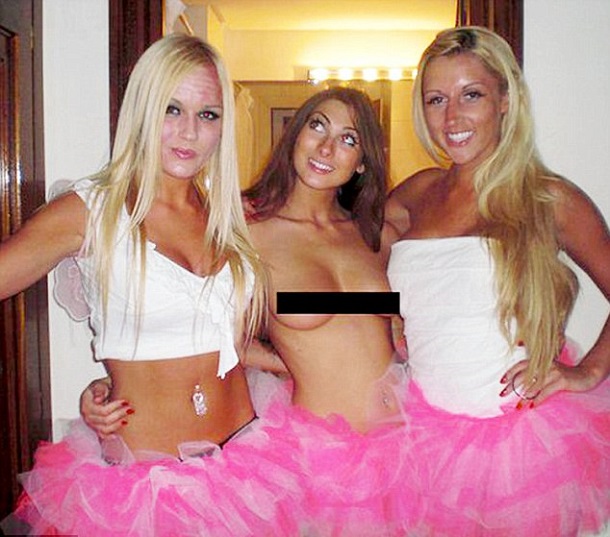 Clearly not shy about her body, the wannabe apprentice is pictured sunbathing topless in a busy holiday resort with a pal.
And in the most racy photo of all, the brunette retail entrepreneur straddles a blonde friend in a bar and gives her a passionate kiss, while clutching a glass of champagne.
Even though there have only been two episodes of the BBC show, it seems that Luisa's new found fame is already getting her in hot water.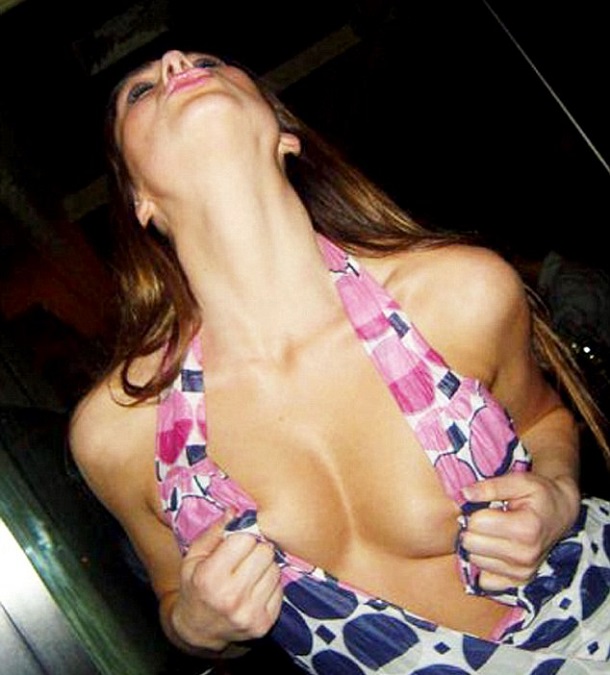 BBC Apprentice: Luisa Zissman Fired
She took part in sex parties run by a company called Killing Kittens.
Luisa, 25, would attend the events — where singletons and couples go for wild nights of sex — with women friends.
Last night a pal of the wannabe entrepreneur declared: "Luisa is sex mad. She is an exhibitionist and loves being centre of attention.
"These crazy sex parties were perfect for her and she loved them. It's fair to say she didn't hold back. Some of the stuff that went on was not for the faint-hearted." Luisa has been the star so far of this year's Apprentice — famed for Lord Sugar's killer phrase "You're fired".
She also said: "I have the energy of a Duracell bunny, sex appeal of Jessica Rabbit, and a brain like Einstein."
'The Apprentice' returned to BBC One for its ninth series this month and for the first time ever, 'The Apprentice' candidates had to reveal their business idea right at the start of the show.
Each candidate is required to demonstrate business sense, creativity and leadership in order to impress Lord Sugar, Nick Hewer and Karren Brady, but only one applicant will triumph and become Lord Sugar's next business partner and win his £250,000 investment.