USA women win sprint gold to crash Jamaica's party
The United States showed Britain's sprinters how it is done to win the women's 4x100m relay in a world record of 40.82 seconds. The team of Tianna Madison, Allyson Felix, Bianca Knight and Carmelita Jeter raced away from their closest challengers Jamaica to take gold. The Jamaicans ran a national record of 41.41, but still finished well adrift, while Ukraine took the bronze.
The American women's 4x100m relay team dramatically crashed Jamaica's London 2012 sprint party by annihilating a 27-year-old world record to win gold in an extraordinary performance that left the stadium stunned. Carmelita Jeter stormed home in the final leg to record a time of 40.82sec and destroy a record of 41.37 set by East Germany in 1985 when the communist country dominated women's track and field while it was known to have been running an institutionalised doping programme. The perfect run also swept away the Olympic record set by East Germany in 1980.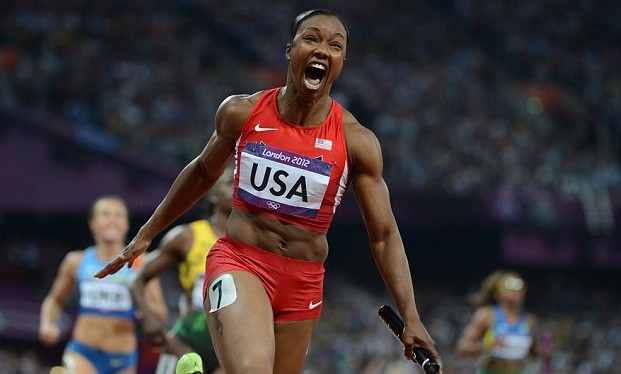 The Jamaican quartet came home to take silver in a time of 41.41 after a tricky first changeover, a run that would in itself have been good enough to take the Olympic record. Ukraine took bronze in a time of 42.04. The race was the climax to a gripping battle for sprint supremacy that has played out all week between the women of America and Jamaica. The first honours went to the Caribbean island last Saturday when Shelly-Ann Fraser-Pryce made history by retaining her Olympic 100m title from Beijing. America hit back in the 200m on Thursday where America's Allyson Felix prevailed. It has been a contest full of great respect and sportswomanship, fluent running and compelling competition and climaxed with the relay showdown that featured all the key players.
The American quartet was anchored by Jeter, who won silver in the 100m, while Felix ran the first bend. Jamaica fielded the 100m gold and bronze medallists, Shelly-Anne Fraser-Pryce and Veronica Campbell-Brown.