Former Pussycat Doll Nicole Scherzinger makes a mockery with British people,for to satisfy her own ego is keeping a  incapable of  man X Factor UK !
Controversy raged after Sunday night's X Factor UK after Rylan Clark was dramatically saved and contestant Carolynne Poole became the first contestant to be sent home despite a stunning performance in the sing-off.
The decision followed endless dithering by judge Louise Walsh who initially said he wanted to save Carolynne Poole, and then controversially changed his mind to take the decision to deadlock.
Rylan Clark receive the most votes from the public to stay in the competition and after hearing that his act was the first to be booted off the show, and clearly disgusted with Louis, head judge Gary Barlow stormed off the stage.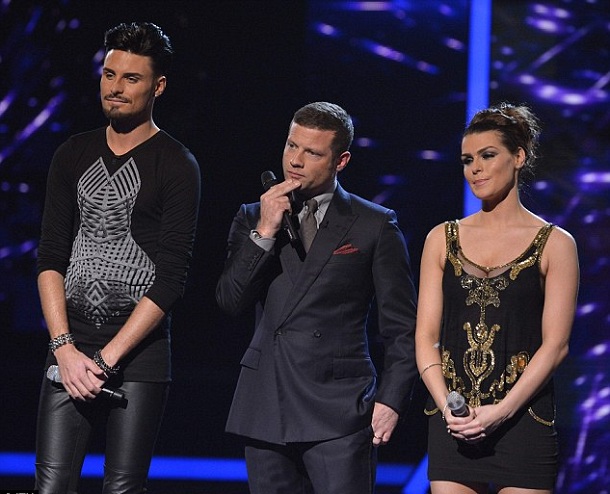 Despite giving a stronger performance with her rendition of 'Everywhere I Am, There you'll Be' to Rylan's version of 'One Night Only', Carolynne found herself leaving the competition after judge Louis Walsh let the decision over who to send home go to deadlock.
Whilst Nicole voted for Rylan by saying: "Carolynne you are a beautiful singer but I've got to go with my boy", both Gary and Tulisa Contostavlos opted to save Carolynne. Despite being impressed with Rylan's performance, Tulisa told the Essex native:
"The truth of the matter is, I absolutely love Rylan as a performer and entertainer. Everytime he steps on stage, I am entertained  and with Carolynne, she has an amazing voice…I have to base it on performance and I have to send home Rylan.
Without waiting to hear what his act Carolynne had to say, the Take That singer got up from his seat and left the arena, after criticising the Essex wannabe on Saturday night for his poor performance.
While Nicole Scherzinger and Gary both predictably voted to save their own acts, Tulisa Contostavlos voted for country singer Carolynne to stay in the competition.
But it was down to Louis Walsh to give the final vote and have his say on their fates in the competition.

Louis, whose group acts all went through to next week, took his time in making his decision before initially telling Dermot O'Leary that he wanted to save Carolynne.
With the decision all based on Louis, Carolynne and Rylan waited to hear who he would choose to send home. However, despite the pushing from host Dermot O'Leary for an answer, the mentor of the groups continued to stall before hastily calling for the decision to go to deadlock.
Shocked by the decision, Gary stood up as he waiting for Dermot to reveal who would be going home as a result of the least amount of public votes. As Carolynne's name was called out, cameras turned to see Gary storm off.
Reacting to the news, Carolynne, who missed out on the opportunity of the live finals last year, remained gracious telling Dermot: "I'm OK. I am glad Rylan's got a shot."
Video : Watch the results… for more X Factor UK Live Show 1 
Video: Watch Opening Show X Factor UK Live Show 1