Pope Francis has officially begun his ministry as the 266th pope, receiving the ring and pallium symbolising his new papal powers at a grand ceremony at the Vatican.
The pallium is a strip of lambswool that represents the Pope's role as a shepherd and the Fisherman's Ring is named in honour of the first pope St Peter, a fisherman by trade.
A cardinal intoned the rite of inauguration at the start of the Mass, saying: "The Good Shepherd charged Peter to feed his lambs and his sheep; today you succeed him as the bishop of this church."
The ceremony is being held in sun-drenched St Peter's Square before tens of thousands of people, including 132 world leaders. The Queen and Prime Minister David Cameron are absent.
During the Mass, six cardinals approached the Argentine-born pope to vow their obedience.
Before the lavish ceremony started, Francis toured a crammed St Peter's Square, where he kissed babies and blessed a disabled man.
In another sign of the informality that is already a mark of his papacy, Francis abandoned the bullet-proof popemobile frequently used by his more formal predecessor Benedict, to tour the sprawling square in bright sunshine.
"Go Francis! We Will Be With You Wherever You Go!" read a sign held up by a group of Brazilian nuns in St Peter's Square.
Sister Rosa, an elderly Italian nun, said she expected the pope would be "another St Francis on Earth for love, goodness, poverty and humility".
Crowds had been pouring into the square and surrounding streets since before dawn.
Francis, who was elected by a secret conclave of cardinals last Wednesday, stopped frequently to greet the crowd and kiss babies held up to him. He got out of the vehicle at one point to bless a disabled man.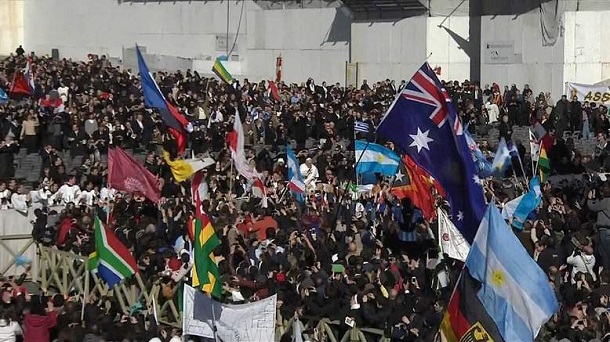 The Mass, which started at 8.30am, GMT, formally installed  Francis as the new leader of the world's 1.2bn Roman Catholics.
Francis will receive the visiting political leaders in the basilica after the Mass.
Argentina's President Cristina Kirchner is among those present for the inauguration.
She met the Pope at the Vatican on Monday in what had the potential to be a tense meeting.
She and her predecessor and late husband, Nestor Kirchner, defied church teaching to push through a series of measures with popular backing in Argentina, including mandatory sex education in schools, free distribution of contraceptives in public hospitals and the right for transsexuals to change their official identities on demand.
In 2010, Argentina became the first Latin-American country to legalise same-sex marriages.
But today those differences appear to have been brushed aside. Kirchner gave the Pope a mate gourd and straw to hold the traditional Argentine tea that the new leader of the Catholic church loves. To her surprise, she got a kiss in return.
"Never in my life has a Pope kissed me!" Ms Fernandez said afterward.