A teacher at a Catholic boarding school has been exposed, after his violent disciplining system was filmed by a fellow student via his mobile phone.
Video Teacher caning students in Thailand boarding school caught on Secret camera
The teacher was filmed caning students with a stick like object wrapped around with electric wire.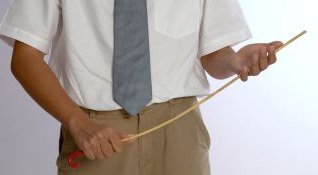 Some students were caned some badly that the bruising sustained covered almost all of the teenagers' buttocks
The Art teacher, Somchai Limthanmaporn who caned the students was fired immediately after the cell phone footage was aired on national television.
It is suspected that Mr. Limthanmaporn inflicted the same punishment to over 40 students according to an administrator at the St. Mary's School in the northeastern province of the country.
It has been alleged by the parents of the students that the crazed teacher inflicted the heartless punishments on the students because their rooms were not tidy enough.
"He must be responsible for his wrongdoing, there will be no protection from the school," said one school representative.
Write your comments and thoughts below.