A plane with more than 100 people onboard has overshot a runway on Bali and plunged into the sea.
Bali police chief Arif Wahyunadi told local TV One that all of the passengers and crew were evacuated from the plane and taken into the Denpasar airport terminal for treatment.
According to the AFP news agency, an Indonesian official said around 130 passengers and crew were onboard however other reports put the total at more than 170 people.
Hospital officials and paramedics said at least seven passengers were taken to Sanglah hospital with head wounds and broken bones.
Many passengers arrived with wet clothes and bruises.
The cause of the accident was unclear as crash investigators prepared to launch their enquiries.
Mr Wahyunadi said the plane originated from Bandung, the capital of West Java province, and was landing in Bali.
The aircraft was operated by local carrier Lion Air, whose operating base is at Bandung.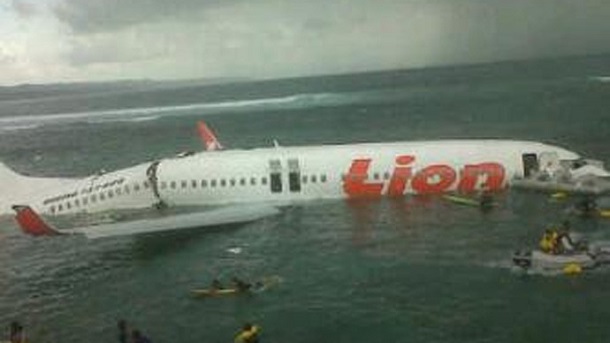 The twin-engined aircraft came to rest in shallow water near the shoreline and the jet plane suffered a broken fuselage behind the wings.
Bright yellow inflatable life jackets littered the nearby water and shore.
Access was made difficult because of large concrete shore erosion protection blocks.
Some rescuers appeared to have paddled out to the stranded aircraft on surfboards.
Lion Air began operating in 2000 with just one aircraft in its fleet.
It quickly expanded operations to more than 36 locations in Indonesia.
It also flies to foreign locations including Singapore, Malaysia and Vietnam and used a fleet Boeing 737 aircraft.