Jovit Baldivino, has won the Philippines Got Talent (PGT) contest on Saturday and has received the P2-million ($43,000) cash prize money in which he has said he will use on his family.
Video of final performance of Jovit Baldivino of Queen's "Too Much Love Will Kill You."
The 16-year-old who received the prize on Sunday performed to a packed crowed at the famous Philippines stadium Araneta Coliseum.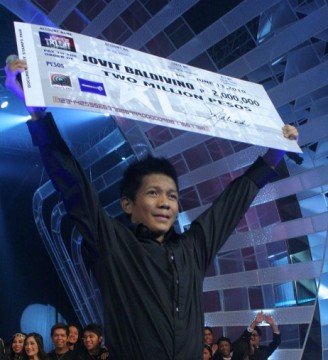 According to reports Baldivino received 48.81% of the votes in which three finalists went against each other to win the much loved talent contest.
The two runners-up were the Velasco Brothers who wowed the judges and viewers with their breakdance and Baguio Metamorphosis, the dance group. Both runners-up received P1-million ($21,150).
Baldivino the winner of the Philippines Got Talent contest which was held for the first time in the impoverished country, has urged other singers from the country, not to stop dreaming.
Baldivino was already a much loved contestant after it had emerged that the talented teenage singer was vendor worker who earned very little.
He was able to gain the votes again after singing Queen's "Too Much Love Will Kill You."
The young boy was also likened to Arnel Pineda the International artist from the Philippines, in which many have said Baldivino's voice is very similar.
Write your comments and thoughts bellow.