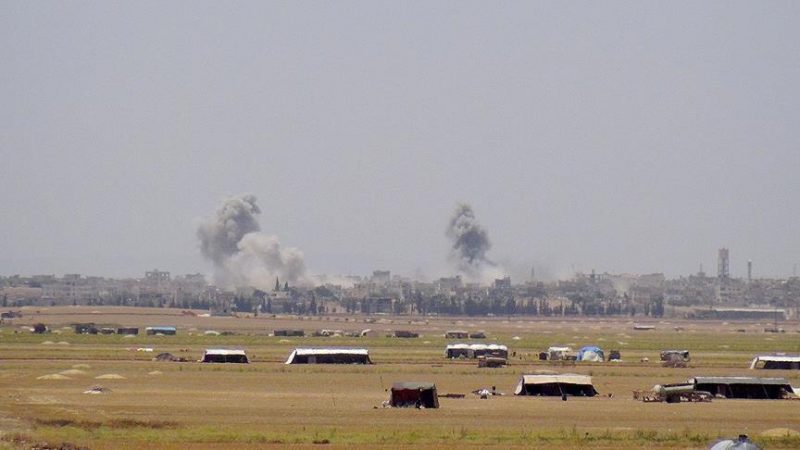 Russian warplanes have been hitting targets at many civilian residential areas and the frontlines of the opposition in Syria's northwestern Idlib province.
According to local sources, the fighter jets attacked west of Idlib and north of Hama on Tuesday noon.
The sources said the warplanes hit civilian residential areas in Jisr al-Shughur City; areas of Basanqul, Ghani, Innab, Sirmaniyah, west of Idlib; Zayzun area, north of Hama; as well as the opposition's frontlines.
According to a Syrian opposition aircraft observatory, so far a total of 20 attacks were carried out by three Russian warplanes, which took off from Hmeimim airbase.
As the attacks continue, the number of casualties are unknown.
U.S. President Donald Trump on Monday warned against Assad regime's possible attacks in Idlib urging Iran and Russia not to make "a grave humanitarian mistake" by taking part in the attacks.
Trump tweeted: "President Bashar al-Assad of Syria must not recklessly attack Idlib Province. The Russians and Iranians would be making a grave humanitarian mistake to take part in this potential human tragedy. Hundreds of thousands of people could be killed. Don't let that happen!"
In a response to Trump's tweet, Russian Presidential Spokesperson Dmitry Peskov said in a statement it was "necessary to deal with the problem" in Idlib.
He added: "The situation in Idlib continues to be a topic of special concern in Moscow, Damascus, Ankara and Tehran."
He said terrorists in the region were sending drones to Russian military bases posing "a significant threat".
Located near the Turkish border, Idlib has been designated as a de-escalation zone where acts of aggression are expressly forbidden as part of the ongoing Astana process.
Nevertheless, for the past two months, the Idlib de-escalation zone has been the target of particularly fierce airstrikes by Russia and Assad regime forces.