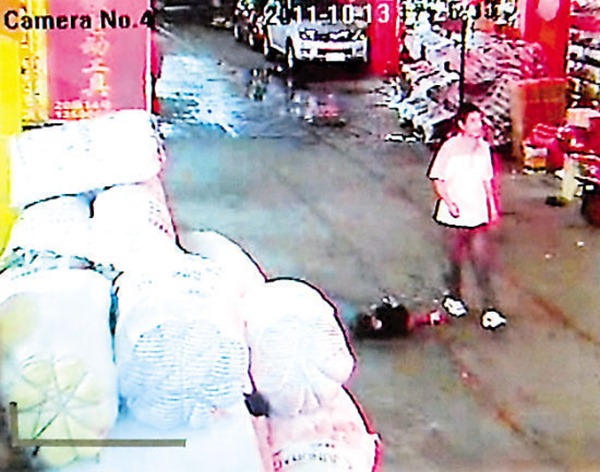 A little Chinese girl was run over twice by a truck and ignored by 19 passers-by in a narrow street in Guangdong Province in China rapidly and increasingly causes outrage around the globe.
BEIJING / NationalTurk – An only two-year-old girl who was the victim of a hit and run has captured the attention of China and the World caused many to wonder why it took so long for her to be helped and ask are all Chinese heartless and moraleless people. Some questioned though that there must be something keeping them from helpinf a wounded person. All begin last Thursday when a two-year-old girl runs into a narrow lane in a wholesale market in the thriving industrial city of Foshan in Guangdong Province and is hit by a small, white van. The son of a bitch of a driver pauses, and then pulls away, crushing the child for a second time under his rear wheels, leaving the unfortunate girl squirming in pain.
China Girl Run Over : When has China became so heartless?
What comes next is as shocking and heartbreaking as the accident itself. Nearly a dozen pedestrians and motorists passed by as the baby girl writhes in pain after she was overrun by the van. which has left millions of ordinary Chinese wondering where their country is heading and the rest of the world thinks how inhuman China has become.
One by one, no fewer than 19 passers-by are seen ignoring the girl as she lies, clearly visible in the road, haemorrhaging into the gutter. Not a single one of them stops to help.
The first is a young man in a white T-shirt and trainers. He walks on past the prone form of girl who is by now bleeding profusely, without a second glance. Next comes a cyclist who wobbles slightly to avoid the dying child and then pedals on, turning his head back momentarily, as if to check he really did see a child dying in the street.
As the pool of blood spreads, a third pedestrian comes by, clearly sees the bleeding girl, but steps out into the small lane to give her a wide berth. A woman walking with a child who on seeing the girl visibly quickens her step, dragging her charge.
All of them could have moved the girl, later named by her parents as 2-year-old Yueyue, but none did, allowing another, larger vehicle following down the lane a few minutes later to run her over for a second time.
It is only the nineteenth passer-by, a 58-year-old street cleaner called Chen Xianmei, who drops her bag of rubbish and rushes to the bleeding child, attempting to scoop up her up, but finding her floppy and lifeless. Chen, who is only 4ft 7in tall, then calls for the girl's mother who comes rushing into view, taking up her child in her arms, who is now in intensive care in the military hospital in the city of Guangzhou.
Yueyue remains in a critical condition, a nurse told NationalTurk on the phone despite earlier reports that she had died.
China does soul-searching : Where did we do a mistake ?
The Chinese public has also had to do some soul-searching over the event.
"The indifference from one or two people may be acceptable. But 18 people? Doesn't this say something about the local culture?" said Li Hongbo on Weibo, China's Twitter-like microblogging service. "I am extremely disappointed by the moral standards in China."
"Stop the Indifference" was the top trending topic on Weibo the day after the incident was reported. Many see China's constant obsession with economic prosperity as the main reason for eroding moral standards.
Chinese people on chinese people : China is a nation that can sell its soul for money!
"China as nation has lost its passion and is beyond hope. It's a nation that can sell its soul for money," stated user Haowu Yiyi on Weibo. Various government agencies in Foshan gave about $4,000 to the trash collector that helped Wang. She has said she will be giving the money to the family of the injured girl, according to local media reports.
The driver of both vans that struck Wang have been apprehended by police, according to the Guangzhou Daily. China has no Good Samaritan-style law and many in China avoid helping strangers in need for fear they will be blamed for the accident. Last week, a bus driver who helped an elderly woman who fell ill on the bus collected the contact details of four eyewitnesses in the event he was accused of harming the woman.
In the past week it was reported that an American tourist jumped into West Lake in Hangzhou to save a suicidal woman. Many are questioning why none of the Chinese bystanders did anything to help. The case has elicited a similar torrent of outrage online in China.
It is a story that has deeply unsettled millions in China, posing troubling questions about whether three decades of headlong economic development has left nothing but a moral vacuum in its wake.
[adrotate group="13″]