Aid Train Leaves Turkey for Pakistan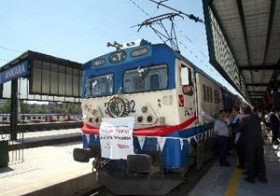 Humanitarian aid train (Amity Train) on Tuesday left Turkey for Pakistan on Tuesday to heal the wounds of the flood disaster.
Amity train was loaded with humanitarian aid collected by Sabah (daily newspaper)-ATV (TV channel) Group and Turkish Red Crescent.
Turkey's State Minister and Deputy Prime Minister Cemil Cicek made a speech when the seeing off the train from Ankara, Cicek said Pakistan had supported Turkey whenever Turkey faced a hard time whatever its (Pakistan's) conditions were.
Cemil Cicek said international community had not dispatched enough aid to Pakistan.
Meanwhile Pakistani Ambassador to Turkey Tariq Azizuddin said floods affected some 20 million people and killed around 2,000 others.
Azizuddin said 165,000 square meters of area was flooded, 1 million houses were demolished, and the flood left 4.6 million people homeless.
According to the ambassador, 3.5 million children were under contagious disease threat, and hundreds of kilometers of highways and energy lines were inundated by floods.
Azizuddin said Pakistan needed 12-15 billion USD for reconstruction.
The aid is comprised of 300 prefabricated houses, 2,000 food parcels, and 930 sacks of flour, hygienic materials, dried food, diapers and potable water.