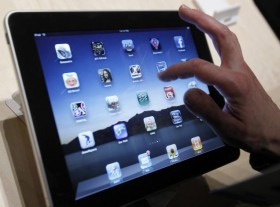 Apple's iPad goes on sale Saturday in America.
Eager customers have been lining up outside Apple Stores to be among the first to buy one. The first generation model has wi-fi but not 3G connectivity, and unlike other tablet devices, it is not yet available outside the US.
Apple took pre-orders online but some early adopters began queuing outside stores the day before its release at 0900 EST (1400 BST) on 3 April.
The company's co-founder Steve Wozniak joined a queue outside an Apple store in California on Friday evening.
He said he had pre-ordered the device, which is retailing in the US at $499 – $829. European prices have not yet been announced.