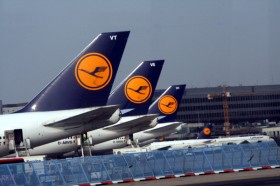 The proposed four-day strike by the German pilots' union, Vereinigung Cockpit, of Lufthansa German Airlines has been suspended.
The industrial action, which started on Monday, was called off in less than 24 hours after the pilots and management of the carrier agreed to hold talks.
"The parties have agreed to return to the negotiating table in order to resolve the conflict," said Hakeem Jimoh, spokesperson for the carrier in Nigeria.
Mr. Jimoh said the special flight schedule drawn out by the airline to minimise the "negative effects" of the strike on passengers remains the basis for flight operations until Wednesday, February 24, when the carrier will return to its normal flight schedule.
"Returning to normal flight operations completely will take a few days," he said. "We ask our customers to continue to check for the status of their flights online."
Lufthansa, in reaction to the industrial action by its pilots, made some had adjusted its flight schedule from Monday, February 22, to Thursday, February 25, after cancelling about two-third of Lufthansa-operated flights worldwide.
The carrier, however, disclosed that its regional partners will operate their flights according to schedule and that daily flights from Abuja with continuation to Port Harcourt remains the same.
Though the strike has been called off, they were no passengers at the Murtala Mohammed International Airport office of the airlines yesterday afternoon. Officials of the airline said it was due to their flight schedule.
"The strike has been called off and passengers are not here because our flights are usually at night," said an employee of Lufthansa. "We will fly passengers to Frankfurt tonight."