In Kiev the violence escalates: The authorities affirm that there has been a dead man. The opposition reported one demonstrator was shot. Another man will be plunged into death. Previously, a law went into effect that allows the police tougher action.
With renewed clashes of protesters and police in Kiev, there was at least one dead. The Ukrainian authorities confirmed on Wednesday morning the discovery of a corpse in the center of the capital. That the body – as reported by local media – is to have gunshot wounds, the Interior Ministry in Kiev but could not be confirmed.
The opposition announced that a man had been shot by a sniper the police and died of his injuries. A second man should be overthrown when climbing from 13 meters height to death. The 22-year-old had been chased by police, claimed a spokesman for the opponents of the government.
As the "Kiev Times" reported on Tuesday afternoon to have thrown in the Dynamo stadium in the city center Molotov cocktails and fireworks on the security forces, the 22-year-old. The police had then thrown gas grenades and attacked the demonstrators with rubber bullets. The young man was standing with another protesters on the roof of a portico and then apparently lost his balance. He suffered broken bones in the arms and legs. Shortly thereafter, he should have died in a hospital.
Ukraine Protest Violence:Police clear barricades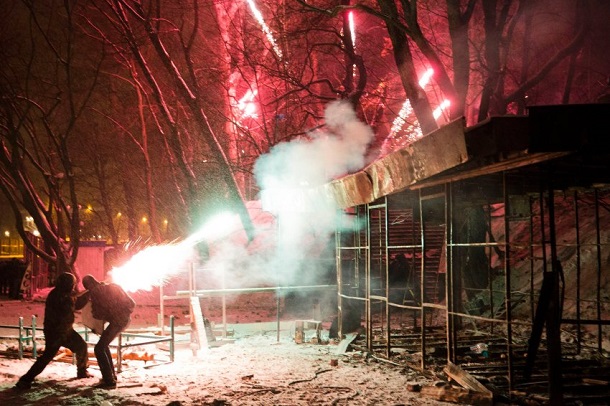 A special police stormed the morning the barricades of government opponents before the Dynamo stadium. The militia used tear gas and stun grenades. Dozens of opposition activists were arrested, it said. The protesters resisted and pelted police with firebombs and stones. After a short time the militiamen withdrew first.
Previously, the government had announced a crackdown on "provocateurs". On Tuesday a package of laws went into effect that restricts the rights of the demonstrators. Among other things, money or imprisonment for wearing masks or helmets are now possible, even the unauthorized building of stages and tents as well as the blockade of public buildings can now be punished more severely.
In addition, a court had ruled the middle of last week without explanation, that in the center of Kiev 8 to March could not be demonstrated. 50 protesters were arrested.
The government protesters demonstrate since November. They call early among other presidential and legislative elections and the withdrawal of controversial laws. In recent days, there have been repeated street battles between security forces and violent protesters.