Besiktas Transfer Ricardo Quaresma : Turkish side Besiktas have announced to the stock market that they are going into negotiations with Inter Milan's Ricardo Quaresma.
Turkish side Besiktas have announced to the Turkish stock market that they are in negotiations with Inter Milan's Ricardo Quaresma.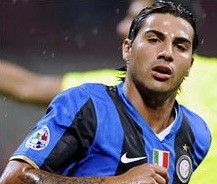 It was earlier announced that Besiktas had started negotiations with both Inter Milan and Quaresma, for the transfer of the Portuguese star.
Besiktas Football Company A.S, sent a special notification statement to the Press Clarification Platform (KAP) which said "Negotiations have been started with Italian club, Inter Milan's and their player Ricardo Quaresma for the transfer of the player,"
However, after this announcement it has been said that the transfer has already been informed to the stock market, which is something that Besiktas J.K. does usually when a transfer is guaranteed.
This is a transfer which the fans of the Turkish Champions have long wanted and is seen as a good will gesture by the Besiktas chairman, Yildirim Demiroren, who has come under immense pressure from the start of the season by the world famous Carsi Fan Group and Besiktas fans all over the country.
The centre of criticism to Demiroren was that he spent over 14 million Euros on two players, Ismail Koybasi (5.5 Million Euro plus two players) and Rodrigo Tabata (8.5 million Euro).
Brazilian, Tabata's transfer, was particularly criticised by the Besiktas faithful as he not only underperformed but he also lacked Champions League experience which was a competition Besiktas supporters wanted to do well in.
The situation had gotten to such a state that, Demiroren has not been seen at the Inonu Stadium, the home ground of the Black Eagles after eggs being thrown at him, being verbally insulted by the Carsi group and other fan groups and booed throughout the season.
Note: Quaresma is no stranger to Besiktas as he had scored a last minute goal against the Black Eagles in 2007, when he was playing for Porto in the Champions League group stage in which Porto beat Besiktas.
Demiroren has so far spent over 100 million Euros on players such as Ailton Gonçalves da Silva, Federico Higuain, Lamine Diatta, Juan Francisco Garcia, Jose Kleberson, Ricardinho, Rodrigo Tabata, Thomas Zapotochny, Gordon Schildenfeld, Anthony Seric and many more.
From the list of players above, most have left Besiktas for free or a price, much less then what they were transferred for, and there were even talks that the company worth of Besiktas was in dire situation and close to bankruptcy.
So far since Yildirim Demiroren has been appointed chairman of Besiktas J.K. over 50 players have come and gone from the team.
Three former managers of Besiktas, Vicente del Bosque, Jean Tigana and Mircea Lucescu who made Besiktas the 2002-03 season Turkish champions have all had financial problems in regard to the club under the Demiroren administration.
Del Bosque who did was supposed to get a 2.25 Million Euro from Besiktas under terms of contract received 8 Million Euros because of late payment awarded by FIFA. Tigana's case is still on going with FIFA as he has failed to receive the 3 Million Euros on his contract after being fired. Lucescu was also supposed to receive 1.5 million Euros after being fired from the club but the Romanian manager asked not to receive the money.
The Besiktas Chairman has also been under heavy criticism from senior members of Besiktas J.K and has even been engaging in three separate court battles due to Demiroren's alleged wrong doings.
One particular situation has flared up much criticism to Demiroren by senior members of Besiktas J.K. The Fulya project in which a large area of land owned by Besiktas J.K. was to have an apartment built on it with the building contractors receiving 33% of the finished project and Besiktas receiving 67%.
However, according to some senior members, Besiktas J.K. have only received 33% of the ownership of the buildings and the building contractor have received 67%, which is one of the reasons behind Demiroren being taken to court.