Australian star singer climbs a staircase in a revealing gown in the video created by British artist Katerina Jebb.
Kylie Minogue  finally reveals what those barely there gold hotpants were hiding – as she flashes her bum.
The Aussie beauty's finest asset was a talking point long before she pulled on the shorts for the Spinning Around video in 2000.
The clip made her bum more famous than the rest of her.
The 44-year-old finally unveiled it in a spoof advert by British artist Katerina Jebb for body insurance.
We learned at a very young age that Kylie Minogue had a very good bum.
We learned it somewhere in between the eight times table and that colours of the rainbow song.
But then we forgot about it (much like the times tables and the song).
Which is probably why she's decided to remind us. By getting it out.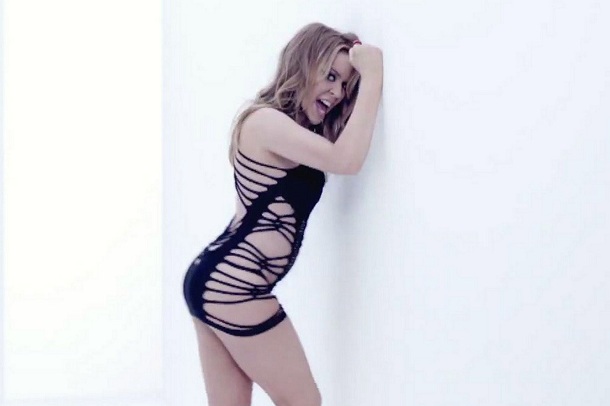 Getting all of it out.
And then walking up a flight of stairs.
Of course, it is possible that the dress was just five sizes too big for her (a size 10, then) and the backless part just became bumless by mistake.
It's also possible that she just ran out of pants.
We don't really care either way.
It shows Kylie in a flowing white grown, walking across a room. As the voiceover asks, "Are your assets fully covered?", she begins climbing some stairs – revealing her dress has no back.
The video's called Simulacrum and Hyperbole – a title that provides food for thought, if only you weren't distracted by Kylie's bum.
The video comes after Kylie showed she's tweet on our sister title, The Glaswegian.
She retweeted their review after Gerry Fitzsimmons gave her new flick Holy Motors five stars.
Kylie Minogue flashes her bottom Video and Pictures: