Dita Von Teese became singer, and released the first clip, Sexy Dita is also quite provocative in the video.

Dita Von Teese became singer, and released the first clip, Sexy Dita is also quite provocative in the video.
She's known for being the queen of burlesque and is more often than not seen in various states of undress.
So it comes as no surprise that Dita Von Teese appears in her underwear as she makes her singing debut performing with the band Monarchy.
As the model sings over the electro beats for their new single Disintegration she writhes around on a bed with two masked men.
The video begins with a sea of naked bodies lying entwined but when the camera pans out it becomes clear that the scene is what is going on inside Dita's mind.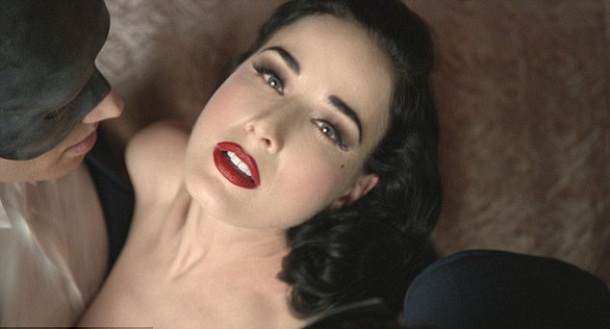 It's soon apparent that the 41-year-old, who is playing a fifties housewife, is looking for a little more excitement in her life, perhaps of a sexual nature.
Scenes of the beautiful black-haired star in a kitchen with a picture perfect family are interspersed with a raunchy bedroom scene.
Sitting on a bed dressed in a smart black dress, the dancer slowing unzips it to reveal beautiful lacy lingerie underneath which includes suspenders.
It's the perfect opportunity for the immaculate looking star to show off her world-famous figure.
Soon two masked men who are sitting in front of her watching her take her dress off join her on the bed and begin to caress her.
While Dita's incredible figure is clearly the talking point of the video, her vocals aren't too bad- the star sings in a sultry manner over the top of the electro sounds.
Monarchy are an English electronic music duo consisting of Edward Nigma and Peter Uzzle.
Speaking about how the collaboration came about, Dita revealed:'Monarchy had told me they were writing a song for me, and I didn't really know what they meant, whether it was about me or for me to just enjoy or what…and when they told me it was for me to sing on, I said "uh, I don't really sing…"
'I had done a couple of recordings of me "talk-singing" Mae West/Marilyn Monroe style for my burlesque shows, but I felt like that was different because those songs together with the onstage visuals of my show, well, it's different than just listening to my voice, I think!
'But they believed in me, and so I did it anyway, asked them to make me sound good! And then I just hoped I woudn't be judged too harshly, because you know, it's not like I'm trying to say I'm a singer or that I'm trying to make an album…I'm totally devoted to creating, building and performing my live burlesque shows.'
Meanwhile it has been reported that Dita, who was once married to Marilyn Manson, has been helping Russell Crowe mend his broken heart following his split from wife Danielle Spencer.
According to the New York Post, the couple booked themselves in for a 6.30am pampering session in the spa at the Four Seasons Hotel in New York back in December.
And things are reportedly going from strength to strength for the pair, who have been flirting over social networking site Twitter in recent months.
Last year, Crowe retweeted two of Dita's messages, the first of which read: 'Dressage. Was measured for bespoke blk patent boots w/my name stamped on the heel . . . But under whose bed did I leave my Hermes riding crop?'
The second post he retweeted read: 'Giving airport security a lesson in garter belts this morning.'
However representatives for both Dita and Crowe have yet to comment on the reports.
[media id=790 width=610 height=340]