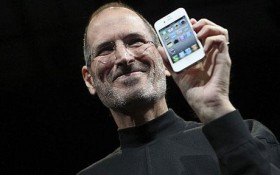 The Apple iPhone 4 goes on sale next Thursday.
The fourth-generation iPhone, and gadget fans will have noticed something of a pattern emerging in terms of the release cycle of Apple's flagship smartphone.
Apple traditionally uses its annual summer developer event, WWDC, to show off its newest iPhone. In 2007, Steve Jobs showed off the original iPhone; in 2008, Apple took the wraps off the iPhone 3G; last year, we saw the introduction of the iPhone 3GS; and just over a week ago, Steve Jobs proudly unveiled the iPhone 4.
Unfortunately, the deals offered by network operators don't seem to tally in with this release cycle – Vodafone, O2 and Orange are only offering iPhone 4 customers a choice of 18-month or two-year contracts. That means your contract will either expire before the next iPhone comes out, leaving you in telephonic limbo, or, you'll stuck with an "old" handset while other people queue outside Apple stores to get the latest one.
So for some people, a SIM-only deal could be the way forward; this means you buy an unlocked iPhone, and sign up to a pay-as-you-go SIM deal from one of those three operators.