Manchester United can not be stopped, Liverpool misses Kenny Dalglish, Chelsea zero with Rafa Benitez,Wendesday summery of Premier League.

Manchester United can not be stopped, Liverpool misses Kenny Dalglish, Chelsea zero with Rafa Benitez,Wendesday summary of Premier League.
Manchester United 1 West Ham United 0: United on the wings of flying Dutchman Van Persie
It was no surprise that past heroes were the toast at Old Trafford because none of the players out on the pitch was able to warm the blood in a scrappy game on a freezing night.
The signs looked good for Manchester United when Robin Van Persie scored the fastest Premier League goal of the season after just 33 seconds.
But even that was a deflected effort off James Collins' outstretched leg and proceedings went downhill fast from that moment.
It all left Sir Alex Ferguson wondering just when his side are going to produce a complete 90-minute performance. Either they go behind and have to stage a thrilling comeback or they take the lead and go off the boil.
Ferguson had been calling for his side to produce some gritty 1-0 wins – but he did not expect them to come quite like this. He was thinking of the backs-against-the-wall displays on away grounds, not when you score in the first minute at home and fail to add to the tally.
 The only plus points for United were the three points that kept them in front of neighbours City and a rare clean sheet.But Ferguson was disappointed that his team – who operated without wingers – failed to build on their flying start."We got a great start and I thought we could have kicked on from there," he said. "Some of our football was good but we never finished them off."We've operated with the diamond formation quite a few times this season and done very well so I don't think that is an excuse."But West Ham are a very dogged team to break down. They are a very well organised, big, powerful team, so I'm pleased with the result."There's no doubt 1-0 wins are important if you want to win the championship. If we can keep clean sheets from now until January more often than we have, then it will give us a good foundation to go for the title.league. With Chelsea drawing it draws us away from them a bit further. Of course, City are right on our tails and it's going to be a long season.
"There are a lot of plus points – particularly in the defensive part because West Ham are such a handful. Jonny Evans, Chris Smalling and Rafael in particular had fantastic nights."
United fans thought they were in for a real treat when Van Persie struck his 11th goal of the season so quickly. There was skill and good fortune involved in the strike. Van Persie's touch was precise as he controlled Michael Carrick's pass and turned past Winston Reid's challenge in the same movement. But he enjoyed some luck when his shot looped up off Collins and over the stranded Jussi Jaaskelainen.
The expected rout never materialised, however, partly due to the resilience of West Ham but mainly due to the below-par performances of many of United's leading names. Too often their final pass or shot was poorly executed and the game cried out for the imagination of a Cantona or a Di Canio.
Wayne Rooney, in particular, had a frustrating night and was replaced with 12 minutes left. But Van Persie also had a quiet night after his goal and Javier Hernandez never seems to be as dangerous from the start as he does when he comes off the bench.
Hammers have now lost 19 of their last 22 visits to Old Trafford but they refused to capitulate and responded well.
For a 20-minute period they were the better side. Kevin Nolan – scorer of two winners at Old Trafford in his Bolton days – went close with a near-post flick, Andy Carroll missed the target with a couple of chances and Matt Taylor tested Anders Lindegaard.
At the other end, Jaaskelainen had to make only one first-half save from Hernandez. He had more to do in the second half when United improved, no doubt warmed by a few choice words from their manager. He produced a superb finger-tip save to keep out a Rooney effort while Tom Cleverley fired a shot inches too high.
West Ham finished the stronger side and caused United some nervy moments towards the end when Ferguson was concerned enough to prowl the technical area anxiously looking at his watch. At the final whistle, his shake of the head said it all.
Maybe the forthcoming derby game with City will bring the best out of United. Because something needs to.
Manchester United vs West Ham United Match video:
[media id=732 width=610 height=340]
Tottenham Hotspur 2 Liverpool 1: Get out from Anfield please Brendan Rodgers
Gareth Bale scored a stunning free-kick and set up Aaron Lennon with a wonderful solo run to bring Liverpool's eight-match unbeaten run to an end with a 2-1 win at White Hart Lane.
The Welshman scored what has to be one of the most unlucky own goals in Premier League history to tarnish his evening slightly but Tottenham still managed to come away with their second successive win despite an edgy second half in north London.The win, which moves Spurs above Arsenal and Everton into fifth, did not come easily – but it did remind the club's critics that in Bale they have a man capable of winning a match almost single-handedly.Tottenham's early pressure paid off as they took the lead in style. Bale collected the ball on the half way line and breezed past four players before squaring to Lennon, who tapped home from close range.A mix-up between Hugo Lloris and Kyle Walker then almost gifted the visitors an equaliser. The Frenchman rushed out of his goal to clear Luis Suarez's through-ball – but the defender took the ball away from his goalkeeper into the path of Jordan Henderson, who blazed wide of an open goal.The Spurs fans mocked Henderson for his miss and the midfielder's evening took another turn for the worse moments later when he was harshly adjudged to have fouled Clint Dempsey 30 yards out.
Bale took a five-yard run up and despatched a powerful drive which dipped and swerved over the wall, completely bamboozling Jose Reina, who could only stand and watch the ball sail in to his right.
Liverpool thought they should have had a penalty in the 36th minute when Steven Gerrard went down under pressure from Mousa Dembele, but Phil Dowd waved play on. The danger was not over for Spurs though, as Michael Dawson dribbled in to the path of Suarez, whose shot was cleared off the line by Walker.
In the 70th minute Bale unwittingly put Liverpool back in the game. Lennon was well-placed on the line to clear Gerrard's header, but unfortunately for Spurs, the winger's clearance cracked Bale square in the face and flew in to the home net.
Jonjo Shelvey chipped just wide and Suarez thought he should have had a penalty in a nervous final few minutes, but Tottenham held on until the final whistle, which manager Andre Villas-Boas greeted with a huge double fist-pump.
Tottenham Hotspur vs Liverpool match video:
[media id=733 width=610 height=340]
Everton 1 Arsenal 1:A match so insipid but Theo Walcott is best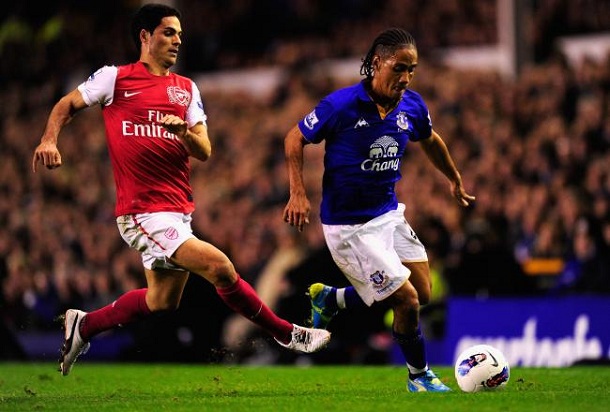 Arsene Wenger was named as the fifth-highest-paid manager in the world this week, reputedly earning a not-too-shabby £7.5million-a-year. But last night showed not all of his good fortune is in the bank.
Despite seeing Arsenal take the lead after just 49 seconds through the effervescent Theo Walcott, whose 10th goal of the season must now enhance his own pay claims, Wenger saw Everton clamber off the canvas and conjure a performance which should have yielded a precious victory.
David Moyes can take heart from the power and persistence his players displayed, Marouane Fellaini again showcasing his swagger with an eye-catching equaliser before the break, but he again lamented missed opportunities after a sixth draw in eight games.
There was also a barbed appraisal of referee Michael Oliver after he waved away appeals for a penalty on the hour when former Everton midfielder Mikel Arteta placed his hand on the shoulder of Steven Pienaar and slid in on his former team-mate, who was left in a heap on the floor.
"We should have had a penalty, for certain," said Moyes, whose mood was not improved by the hamstring strain suffered by the outstanding Leighton Baines, who could now miss Saturday's trip to Manchester City.
"I said to the boys that we are going to have to earn it because the referee gave us nothing.
"We did everything but win – we played really well, we showed great character to come back after going down so early."
Wenger insisted afterwards that Arsenal now possess a platform to push on despite slipping to seventh, a point behind Everton and now two behind Spurs. He will first have to fathom why his side were unable to build on the perfect start elicited by Walcott, who may have been left out of the 2013 Arsenal calendar but remains firmly in the picture despite finishing with an ankle knock.
Walcott burst off the right flank, marauding through the middle to leave Phil Jagielka trailing and then continued a burst by running round Tony Hibbert after offloading a pass to Aaron Ramsey.
When the ball was played back towards Walcott his side-footed effort flicked off Hibbert's toe to nestle in the top corner.
It was the 100th time in Premier League history that a goal had been plundered in the opening minute of a game, but Walcott's own statistics are as easy on the eye. As well as reaching double figures in 18 games, this was his sixth goal in his last six.
For Arsenal, who have gleaned more wins and scored more goals against Everton than any other top-flight opponent in the modern era, the explosion from the blocks looked set to continue the theme.
However, there is something about a midweek game under the Goodison Park floodlights which stirs the fighters' instinct in the hosts and soon it was Darron Gibson, back for the first time since September 1, who set the tempo alongside Leon Osman.
There was little surprise that it was Fellaini whose fingerprints were on an absorbing contest.
He equalised in the 28th minute when he curled a left-footed shot from 22 yards around Thomas Vermaelen and beyond keeper Wojciech Szczesny.
Everton should have scored more. Nikica Jelavic skied an effort and Sylvain Distin's bullet header was pushed away.
Arsenal saw Olivier Giroud head wide and a stinging Santi Cazorla drive test Tim Howard but Wenger will need more from his side.
" We have shown the spirit to hang in there and we have the chance now to be consistent," he said.
Everton vs Arsenal match video:
[media id=734 width=610 height=340]
 Chelsea 0 Fulham 0:Rafa Benitez cant also help to Chelsea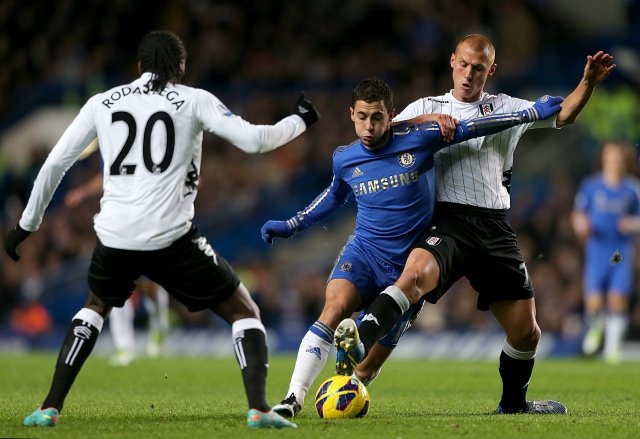 So now we know what Roman Abramovich's Plan B was when he sacked Roberto Di Matteo. Bore Chelsea's fans to death.
Come back Robbie, all is forgiven, Chelsea's long-suffering fans could be heard screaming from the stands. Anything is better than this.
Chelsea's second successive goalless draw under interim-manager Rafa Benitez is hardly the kind of fare that is designed to win those already disgruntled fans over.
The Spaniard this time, unlike in his first game, was not booed as he made his way to the dugout. But he was booed as he made his way off at the end – as was his team.
Now it is just four points from the last available 18 in the league and any hope of the title is disappearing with every passing minute. If this is progress since the departure of Di Matteo, it is a very strange kind.
Astonishingly with this dismal point, Chelsea moved up to third place and Benitez insisted that his team, seven points behind leaders Manchester United, can still win the title.
 "We are not out of it, there is still a long way to go," he said. "We have to keep going. We'll have chances. It's a long, long competition."Everybody was disappointed at the end. These are the games we have to win. We controlled the game but we have to score goals."We need more time. The main thing is to win games. If we do the confidence will come back, we'll be there and we can win competitions."The players are happy with the things we're trying to achieve. It's a question of time. We are heading in the right direction."
Only one other Chelsea manager in the Abramovich era has failed to win his first two games – Avram Grant. Mind you, he reached the Champions League final.
Benitez has until the end of the season to work this out. Much more of this, however, and the former Liverpool manager might not even make it that far. You might have noticed, Rafa, that Roman is not a patient man.
But the fact is that Benitez is a pragmatic, very cautious manager. Abramovich knew that when he appointed him in such haste last Wednesday.
You get what you pay for.
The signs were there from the start last night, as he left out joint top scorer Juan Mata.
If the plan was to make his team more solid, that certainly worked. The problem was at the other end.
Chelsea managed just two shots on target in his opening game against Manchester City on Sunday and the tally was poor last night, though they did create more chances.
Benitez had slipped into his seat at the start almost unnoticed, unlike Sunday when he was booed to the rafters. The fury came at the end.
The fans did their now traditional "There's only one Di Matteo" in the 16th minute in honour of their ex-manager, who wore that shirt number as a player. But as Chelsea laboured on, the song resurfaced in the second half, along with chants of "We want our Chelsea back". And then a storm of booing at the end.
Chelsea were dreadful. The number of chances they created could be counted on the fingers of one hand. It was extraordinary how the fluid, adventurous side of the early weeks of the season has disappeared seemingly overnight.
Fernando Torres drove the ball straight at Fulham keeper Mark Schwarzer after David Luiz shot over. But Fulham were well organised defensively, and in the sublime Dimitar Berbatov, they had the best player on the pitch.
Martin Jol's team, in fact, increasingly began to sniff the chance of three points as time wore on. And they wasted a glorious chance as John Arne Riise galloped clear, only to fluff his shot.
Ramires, Branislav Ivanovic, Torres – who has now gone 648 minutes without a goal in the league – and Azpilicueta all went close. But Fulham had the best chance, as Kerim Frei set up Riise for a shot that Petr Cech brilliantly turned round a post.
Fulham boss Jol said: "We are disappointed that we did not win. We could have nicked it in the end. Berbatov was almost unplayable."
Work to do Rafa. And plenty of it.
Chelsea vs Fulham match video:
[media id=735 width=610 height=340]