Our national sport is Turkish wrestling, but we are all hooked to football as a society, we literally eat and sleep football.
Being successful in other sports also makes us very happy, we put these successes in our mind in a pleased and proud way just as we did with our 12 Giant men (National Basketball team) and our sultans of the net (National women's Volleyball team). However in the mother of sport, athletics, we have not had success other then the late Ruhi Sarialp who won the Bronze medal in the London Olympics 1948 in the triple jump. Generally in international competitions our athletes were very poor, so poor that we couldn't send them to the competitions in some occasions.
In the beginning of the year 2000 this changed. A young woman from the East of Turkey had managed to get all the attention with her groundbreaking capabilities, her name was Sureyya Ayhan.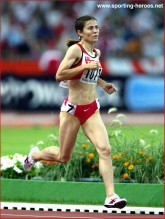 When we saw her reach the semi finals in the 1500 metres at the Sydney Olympics in 2000 and the final of the World Championship in 2001, her time and progressing performance made us all hopeful. In the 2002 European Championship she reached the peak of her performance and Sureyya Ayhan won us the Gold medal which made us all proud of her.
As a society we all have a bad habit. When we witness success we expect this to happen regularly, this bad habit especially applies to sports. Suddenly we started to expect the highest of successes regularly from an athlete that we never heard of before the European Championship.
We expected Sureyya Ayhan to win all the races she participated in and even break the 1500 metre women's world record. In 2003 when she came 2nd, rather then getting praise for success she was criticised for not coming first.
Her downfall started when she refused to take a drug test before the 2004 Athens Olympics which ultimately resulted in Sureyya Ayhan not participating in the competition and being banned for 2 years from athletics competitions. After her 2 year ban from the circuits over the drug test refusal, the injury she suffered and the drug test that she failed during the training period for the 2008 Beijing Olympics were taking her to the end of her carrier.
The athlete who got a life long ban from competing in any athletics competitions by the international athletics governing body had her ban lessened to 4 years by the Turkey National sports governing body. However the Court of Arbitration for Sport (CAS) re-changed the decision to ban Sureyya Ayhan from athletics for life.
This decision was no different then giving Sureyya Ayhan a death sentence. A 5 year period came to an abrupt end in tragic circumstances. One of the rear talents that out country developed faded away like a shooting star.
Suddenly when her carrier started to fade people from the sporting world and the public gave her comfort as their champion. Where were these people when she required the support during the competitions? Unfortunately the media preferred to write about her private life rather then discussing her achievements and carrier to motivate her even more.
Her relationship with her trainer who she eventually got married to was subject to nation wide criticism by our countries media. The end result is out in the open for all of us to see, we lost a very talented star. The women who at one point was hailed a national hero suddenly became the countries public enemy number one.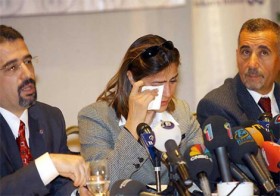 Even if Sureyya Ayhan was some how let back into athletics, the psychological pain and the heart break she suffered will stop her from becoming the star she once was.
I will it is time that certain people have a log look at them selves especially officials from the athletics federation and the sports media groups. Or many more future stars will be lost due to pressure and unwanted stress.
As we can see the sports politics in our country when looked at generally and by a specific sport must be revised or even renewed. During this renewal, the mother of all sports Athletics should be specially and carefully revised with the help of sports organisations and federations to determine the correct politics and strategies.
Some of these strategies should be to organise talented young stars into programs so that they can get the correct help to nurture and get there abilities to their peak value. If these do not happen we will carry on being heartbroken in the Olympics with unsuccessful athletes and constantly comfort each other with past achievements.
See other articles by Emre Göllü »