Different styles and songs, James Arthur become popstar of the Britain X Factor UK 2012  at the end of 2 months and this is the best result.
James Arthur made history tonight, as he became the first X Factor winner to have previously been in the bottom two, whilst former Asda-worker Jahmene came in second.
As Dermot announced James as the winner, he buried his head in Jahmene's shoulder and tried to hold back the tears.
Dermot tried to interview him but James was obviously in shock. He said "thank-you to everyone" but didn't seem to manage anything else, just thanking everyone over and over again. Even when Dermot produced his CD James was massively over-whelmed.
Jahmene was gracious in defeat, grinning for James and told viewers he was going to "use this platform wisely" and that he was happy to be able to share the stage with such talent.
James then took to the stage to sing his new single, Impossible – though in true X Factor style he didn't make it to the end, as he was mobbed by his fellow finalists and mentor Nicole Scherzinger, congratulating him on his win. Rylan was particularly happy for Nicole and her boys, bouncing around in his fur coat.
So that is it, James has won and the X Factor has finished.
X Factor UK 2012 Final: Christopher Maloney supporters Despite James Arthur Win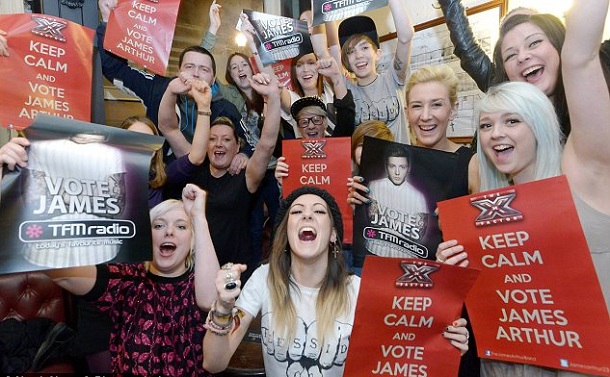 James Arthur may have been crowned winner of the X Factor 2012 last night, but voting figures for the live final shows have shown that Christopher Maloney, who exited the competition in third place on Saturday night, topped the votes the most week after week.
The talented singer, who received a lot of backlash during his time on the competition gained the most votes from week one (28.8%) all the way through to week seven when he got 26.4% of the vote.
Despite appearing gracious and happy to have come in at third place in the competition, reports yesterday revealed that Chris would not be appearing in the X Factor finalists performance after reportedly angering the show's bosses with his "abusive behaviour."
Confirming that Chris would not be appearing on the stage, a rep for the show toldEntertainmentWise yesterday:
"Chris decided he no longer wanted to be part of The X Factor Final and has gone back to Liverpool."
Meanwhile, James' victory over runner up Jahmene Douglas came after the talented 24 year-old singer got 54% of last night's vote.
Tweeting ahead of last night's final, James wrote: "So much love for all my supporters who voted me through to tonight! Thankyou so much xx"
X Factor UK 2012 Final night Video