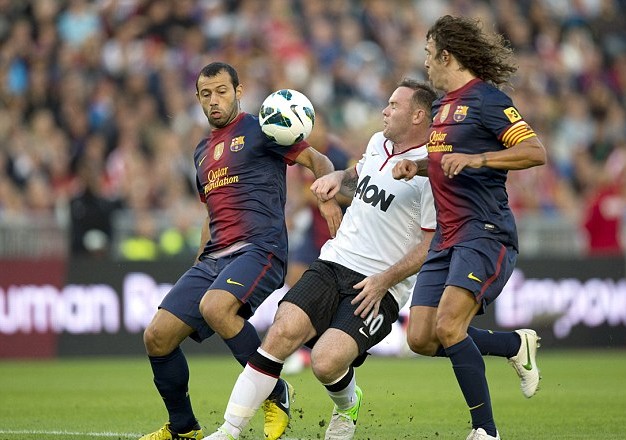 Manchester United vs Barcelona pre-season game ended with a 0-0 draw. Manchester United and Barcelona continue their preparations for the upcoming season continued with the friendly in Gothenburg. Manu's Wayne Rooney missed a first-half penalty but  Manchester United lost in a mini penalty shoot-out in the end. Video
Football – Friendly Games / NationalTurk – Manchester United vs Barcelona 8 august 2012 friendly game saw  both teams fielding quiet strong line-ups for the showpiece played in Gothenburg, Sweden. The preparation for the game has been actually far more interesting than the game itself.
Tickets for Manchester United vs Barcelona game had sold out in 45 minutes, Swedish fans showed great interest in Barcelona vs Manchester United friendly. The match ball arrived on the pitch in Gothenburg by helicopter and a firework display after the Manchester United vs Barcelona game ended, was to be seen.
Manchester United vs Barcelona 2012 / Manchester lose the battle for Lucas Moura and vs Barca
Just before the start of the friendly game between two giants of European and world football Manchester United boss Alex Ferguson learned that he had lost one of his primary transfer targets Lucas Moura to ambitous Paris-Saint Germain. News that PSG had sealed the £30million transfer of the young Brazilian talent arrived minutes before kick-off. Sir AlexFerguson perhaps realised the odds were against his Manchester United when high-spending Paris Saint Germain with endless financial supplies entered the bidding for Lucas Moura over the weekend.
However Sir Alex Ferguson should be more worried seeing his Manchester United squad miss three penalties on their way to defeat in the hands of Barcelona here. Is it an official curse of Englaish football now to miss penalties on every level?
Manchester United included fit again Nemanja Vidic in defence with Wayne Rooney and Danny Welbeck up front and new boys Shinji Kagawa and Nick Powell starting on the bench in the friendly game vs Barcelona.
Barcelona, meanwhile, were near full strength with Carles Puyol, joining Andres Iniesta, Lionel Messi and Alexis Sanchez in the starting XI with next seasons injured player David Villa on the bench amongst the substitutes.
Manchester United vs Barcelona friendly's first minutes saw the Catalans started strongly, characteristically even instinctively dominating possession and enjoying the best chances of an entertaining first half.
Barcelona the better team in the first half, Manchester United can't convert penalty
It took less than a minute for Barcelona to get sight of goal, Andres Iniesta firing at the Manchester United goal but his shot was easily saved by David de Gea, returning to the Manchester United team after his rather unsuccessful London Olympic efforts.
In the Manchester United vs Barcelona friendly showdown Barcelona's best player on the pitch Andres Iniesta was at it again, slicing a delightful ball over the Manchester United defence and into the area for Lionel Messi. Manu keeper De Gea came flying out of his goal but could only flap at the ball, but fortunately for Manchester United the ball skipped out of play before Messi could tap it into the empty goal of Manchester United to give Barcelona a semi-deserved lead in the first half of Manchester United vs Barcelona Friendly.
As the half wore on, Barcelona began to profit down the United right, with Tello exploiting Antonio Valencia at right-back and frequently finding acres of space but unable to pick out team-mates in the box.
Manchester United, meanwhile, were reduced to only meager half chances. A Wayne Rooney header that flew wide and a low shot from Portuguese  Nani that flew past the post after a gorgeous cross-field pass by grandpa Scholes were all they had to show for their efforts in the first half an hour.
Whilst it may have been a friendly, that did not stop 40 years old grandpa Scholes getting his name into the book after a sliding challenge on Sergio Busquets left the Spaniard in agony.
However, with time running out it was another late challenge that almost gave Manchester United an undeserved lead. Cristian Tello upending Nani in the penalty area, leaving the referee to point to the penalty spot with just a minute left in the opening 45 minutes of Manchester United vs Barcelona friendly.
Up stepped Manu striker Wayne Rooney but his piss-poor effort was easily saved by Barcelona goalkeeper Victor Valdes, who parried the ball straight back to the England international who put the rebound wide as the Manchester United vs Barcelona game went into half-time goalless.
Wayne Rooney cannot shoot penalties / Barcelona vs Manchester United Friendly second half
The penalty miss was to be Wayne Rooney's last contribution to the game, the striker being part of a whole raft of changes at half-time as Kagawa and Michael Carrick joined the fray for manchester United whilst Xavi, Pedro, Gerard Pique, Pinto and Cesc Fabregas were the replacements or reinforcements arriving for Barcelona for the second half of Manchester United vs Barcelona friendly on a nice Swedish night in Gothenburg.
Substitute Kagawa almost made an instant impact, a good lay-off from Welbeck allowed the Japan international to shoot low and force Pinto into a diving save, as he tipped his fizzing effort around the post.
Manchester United vs Barcelona 8 august 2012 Video / Watch the big friendly here
[media id=577 width=610 height=340]
Further changes followed with Dimitar Berbatov and Powell introduced by United manager Sir Alex Ferguson who looked visibly frustrated on the touchline; irritation which only increased after Sergio Busquets pulled back Nani on a Manchester United break, only for the Portuguese international to kick out and force the referee to book both men.
In last 20 minutes, Manchester United faced a totally different team as Barcelona made 10 substitutions with midfielder Sergio Busquets the only player remaining from those that started the game. But he was taken off with 14 minutes to go and replaced by Ilie Sanchez.
Yet despite the attacking talent on view, there was to be no breakthrough in the game Manchester United vs Barcelona, with the crowd treated to a penalty shoot-out of this Barcelona vs Manchester United friendly after the 90 minutes ended 0-0.
First up was Nani for Manchester United , but after a stuttering run up his effort rebounded off the crossbar and away to safety. Xavi then slotted home coolly for Barcelona before Ashley Young also missed for Manchester United, leaving Barca defender Gerard Pique to roll home the ball for the winning goal of this Manchester United vs Barcelona friendly game on 8 august 2012  in Gothenburg.
[adrotate banner="55″]