Beşiktaş, Fenerbahçe and Galatasaray fans an amazing competition with each other, fighting, now they united and fighting together against police brutality.
Fans of rival clubs Fenerbahce, Besiktas and Galatasaray joined the ongoing rally in the city's main Taksim Square on Tuesday.
Earlier, Deputy Prime Minister Bulent Arinc attempted to quell the protests by apologising for the police crackdown on a peaceful protest that triggered the rallies across the country.
He said it was "wrong and unjust" for police to fire tear gas at the original demonstration to save Gezi Park in Istanbul last week.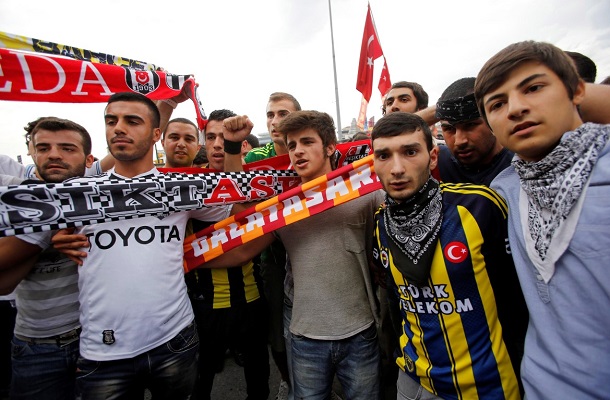 Since then protests have spread to the capital Ankara and dozens more cities, as angry voters express their discontent with Prime Minister Recep Tayyip Erdogan, in his 10th year in office.
Riot police have fired tear gas and water cannon at demonstrators who set cars ablaze and hurled stones in the rallies that have now claimed the lives of two people.
Correspondent Katie Stallard, who was in Taksim Square, said there is a "very peaceful atmosphere" during the day, but that changes at night.
"It's almost like two separate cities here. Once darkness falls, there's a real change in the atmosphere … but protesters are trying to push on to the Prime Minister's offices and that's where we're seeing repeated clashes overnight.
"We're seeing protesters being hit with gas canisters … there are clashes every time it's dark."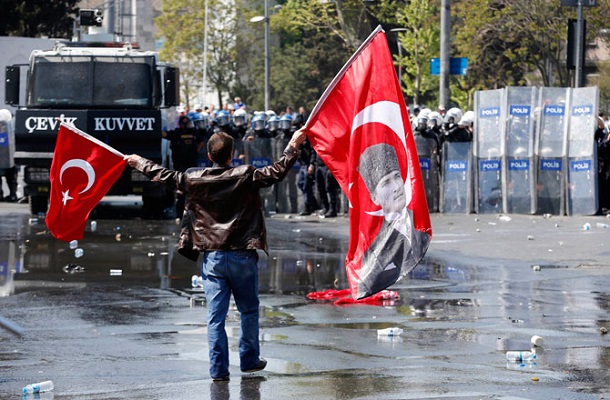 Mr Arinc is in charge while Mr Erdogan is on a tour of North Africa, but it is unclear if  the deputy PM was giving the government line when he apologised to protesters.
"The excessive violence that was used in the first instance against those who were behaving with respect for the environment is wrong and unfair. I apologise to those citizens," Mr Arinc told a news conference in Ankara.
The apology he offered was qualified.
"But I don't think we owe an apology to those who have caused damage in the streets and tried to prevent people's freedom," he said.
Mr Arinc said he would meet some of the organisers of the original protest at Gezi Park.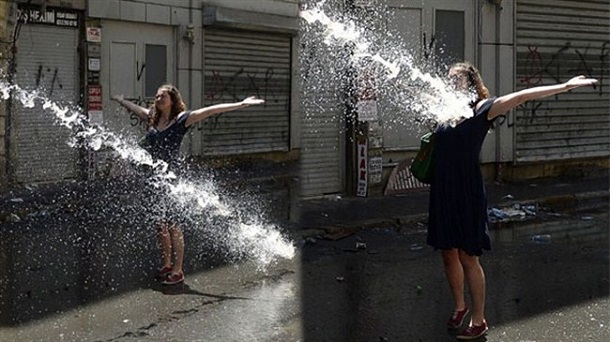 "The government has learnt its lessons from what happened," he went on.
"We do not have the right and cannot afford to ignore people. Democracies cannot exist without opposition.
He also urged protesters to end the demonstrations.
"We expect all unions, political parties and everyone who loves and cares about Turkey to do this today," he added.
Mr Erdogan had already admitted that "there have been some mistakes, extremism in police response" at Gezi Park.
He promised that legal action would be taken against officers who acted disproportionately.
But so far Mr Erdogan has largely dismissed the protesters as "looters", insisting they did not represent a "Turkish Spring".
The attempts by the government to calm the violence come as Turkey's public sector workers union – which has 240,000 members – started a two-day strike to protest against what they have condemned as "state terror" against the demonstrations.
The strike by the Confederation of Public Workers' Unions (KESK) is likely to affect schools, universities and public offices throughout the country.
"These operations have drowned the country in gas bombs. The prime minister has become so thoughtless as to describe the millions who exercise their democratic rights … as a 'handful of marginal looters'," KESK said in a statement.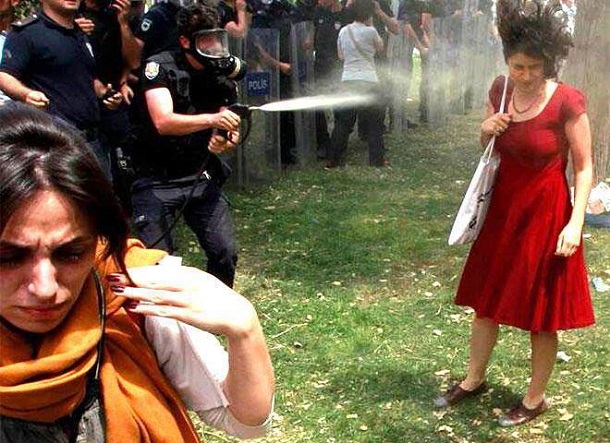 The strike comes as a 22-year-old member of a youth political party became the latest victim of the violence after he was shot in protests in the southern city of Antakya.
It was not immediately clear who opened fire at the rally in the city near the Syrian border, the Hatay province governor's office said.
His death follows that of a 20-year-old man who died after a taxi slammed into a crowd in Istanbul on Monday. The government's office insisted the death was accidental.
The violence first erupted after the police crackdown on the peaceful rally in Istanbul against plans to build over Gezi Park, a rare green spot adjoining the city's main Taksim Square.
But they quickly mushroomed into broader protests in dozens of other cities by Turks who have accused the government of pushing conservative Islamic reforms.
The Obama administration has voiced concern over the crackdown on protesters, urging authorities to exercise restraint.
The Foreign Office has advised British tourists to avoid the demonstrations. It also advises against all but essential travel to areas close to the Syrian border and warns of a "high threat" from terrorism.
Watch Turkey unrest Taksim Park Latest Video
[media id=902 width=610 height=340] [adrotate banner="54″]