Catalans want independence disregarding the constitution of Spain, but the relevant article 8 of the Spanish Constitution creates the danger of a civil war.

Catalans want independence disregarding the constitution of Spain, but the relevant article 8 of the Spanish Constitution creates the danger of a civil war.
The Catalan regional parliament has set November next year for a referendum on the Spanish province's independence. The government in Madrid blandly said the vote won't happen, but activists wonder how it might be stopped.
Catalonia's four pro-independence parties, which hold a majority in the regional parliament, announced Thursday that the rich industrial Spanish province will hold a referendum on whether to gain greater autonomy or even total independence from the country's central government.
The vote's preliminary date is November 9, Catalan regional government head Artur Mas said. The people will be asked two questions: "Do you want Catalonia to be a state?" and "Do you want that state to be independent?"
The former question was added for those Catalans who seek to change Spain into a federation, with Catalonia forming part of it. According to a Metroscopia poll in newspaper El Pais last month, 46 percent of Catalans favor separatism versus 42 percent who wish to remain within Spain. The support for greater autonomy, however, is very strong.
Just minutes after the announcement Spanish Justice Minister Alberto Ruiz-Gallardon rejected the idea, saying it would be unconstitutional.
"The vote will not be held," he said.
Leaders in debt-laden Catalonia promised to hold a vote on November 9 on breaking away from Spain.
"It is unconstitutional and it will not take place," Mr Rajoy told a news conference, ruling out even negotiating on such a referendum.
The poll would offer a chance to redraw the map of Spain by creating a new, independent state between Spain and France.
European Union President Herman Van Rompuy said he believes Spain will remain a single nation.
In a joint news conference in Madrid alongside Mr Rajoy, he said: "I am confident that Spain will remain a united and reliable member state of our European Union."
But a recent poll by the Catalonia Centre for Opinion Studies showed that those favouring greater autonomy or outright independence far outweighed those who wanted to stick with Spain.
Interior Minister Jorge Fernandez Diaz slammed the referendum drive, which he said was dividing Catalans.
He said: "It is causing unprecedented social confrontation in Catalonia. It is a historic error… It is really pitiful."
Justice Minister Alberto Ruiz-Gallardon said: "Our constitution does not authorise any region to hold a consultation or referendum on questions that affect national sovereignty and concern all of us Spaniards."
Led by Catalonia regional president Artur Mas's governing CiU alliance, the parties agreed to put two questions to voters: Do you think that Catalonia should be a State, yes or no?  If yes, do you want that state to be independent, yes or no?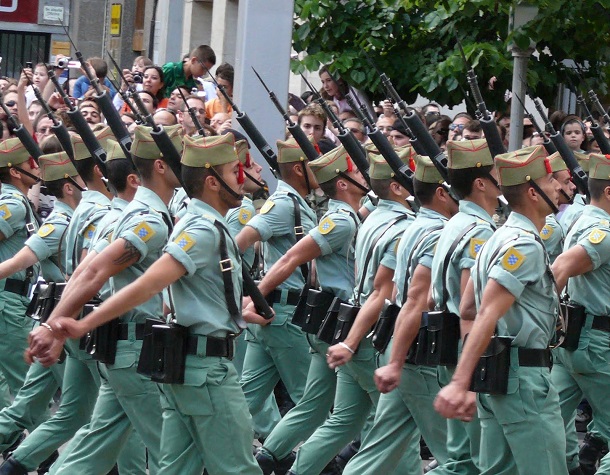 Proud of their Catalan language and culture, but suffering in an economic crisis, many of the 7.5 million people in Catalonia say they feel short-changed by the central government which redistributes their taxes.
Catalonia was there at the symbolic birth of Spain when Queen Isabella of Castile and King Ferdinand of Aragon, a region that included Catalonia, married in 1469.
Now Catalonia accounts for one-fifth of Spain's total output and an even greater share of its exports.
Despite long being considered an engine of Spain's economy, Catalonia has suffered, like the rest of the country, from five years of on-off recession that have thrown millions of people out of work.
In the crisis, Mr Mas has pushed for Catalonia to be given greater powers to raise and spend its own taxes. Mr Rajoy's resistance to that has fuelled the push for independence.
Already the Spanish Military have been flexing their muscles, even with direct threats of physical intervention.
"Spain is an indissoluble nation. In case of threat of fracture or separatism, according to article 8 of the Spanish Constitution, we have to guarantee the integrity of the territory. Therefore, it is our opinion that we have to declare a state of war or siege." This is the opinion of the president of the Spanish Military Association (AME), Colonel Leopoldo Muñoz Sánchez. These are the words of Colonel Muñoz who expressed his opinion on behalf of one of the three largest military associations in Spain, who gave an interview regarding the current political issue in Catalonia that was shown on Dutch television channel "Niewsur"
Catalan Independence 2014:What says Kingdom of Spain Constitution Article 8
Article 8
1. The mission of the Armed Forces, comprising the Army, the Navy and the Air Force, is to guarantee the sovereignty and independence of Spain and to defend its territorial integrity and the constitutional order.

2. The basic structure of military organisation shall be regulated by an organic law in accordance with the principles of the Constitution.