Manchester United on top, Chelsea fans does not want Rafa Benitez, Tottenham dont lost London Derby this time.

Manchester United on top, Chelsea fans does not want Rafa Benitez, Tottenham dont lost London Derby this time.
Manchester United 3 Queens Park Rangers 1: Harry Redknapp should strive for defence
Manchester United  have erected a statue in honour of Sir Alex Ferguson – QPR have been playing like 11 statues since the beginning of the season.
Longevity is an alien word as far as managers are concerned in Shepherd's Bush, incumbents passing through with the regularity of an underground train.
The latest sat in the stand after signing autographs, deciding that the Match of the Day studio or a winter in Ukraine weren't for him.
With Harry Redknapp watching on while the sacked Mark Hughes contemplates another big pay-off, QPR left the Old Trafford public wondering for long periods how they had only collected four points from their first 12 games.
With some of the old guard, like Clint Hill and Shaun Derry, back in harness after largely being discarded following a summer of excess in the transfer market, there was spirit, determination and belief – ingredients absent in QPR's descent to the foot of the Premier League.
And revitalised Rangers merited their lead just after the break, Jamie Mackie taking full advantage of a neat link-up from a corner between Kieron Dyer and Adel Taarabt, having earlier had a headed goal correctly ruled out for offside.
When Anders Lindegaard could only push out Dyer's cross-shot, Mackie pounced for his first goal of the season. While the QPR contingent celebrated around him, Redknapp remained motionless but was maybe contemplating the £1million bonus for keeping the club up which forms part of his two-and-a-half year deal.
Incredibly for a team that normally carries everything before them, it was the 13th time United had trailed this season. But in the space of eight frantic minutes, they again redeemed themselves to leave Redknapp to conduct an inquest into some shambolic defending when he begins work at training.
Fingers could be pointed at Anton Ferdinand, who came off the bench just before a goal torrent which painted a false picture of the game.
He was culpable twice from Wayne Rooney corners, which again brought United back from the brink.
The first was headed down by Danny Welbeck for Jonny Evans to come storming into the six-yard box for the equaliser, while Darren Fletcher was left with too much space to direct another header past a static QPR defence.
Once the ball hit the back of the net you could see the unbridled emotion which gushed from Fletcher and his delighted team-mates.
Scotland's popular captain has been fighting a bowel disorder which had threatened his career. His first appearance since his illness struck 12 months ago encompassed a goal to savour. Football's gods do have a heart after all. Not that QPR were in the mood to join in the adulation – not when their top-flight existence is threatened.
Four minutes later, however, it was all over for a side under the stewardship of Hughes' assistants, Mark Bowen and Eddie Niedzwiecki, as Anderson, brought on to add some energy to a United midfield which had been largely dormant, combined with another substitute, Javier Hernandez, with devastating effect. The Mexican's clinical finish might have ensured United returned to the top of the table, but QPR – unlike in the sad surrender against Southampton a week earlier which sealed Hughes' fate – didn't throw in the towel.
They still attacked with speed and guile, and it needed a goal-line clearance from Rafael to keep out a Hill header. By then Redknapp was on his way home, Bowen revealing that the former Spurs boss had no input into the game.
He explained: "I haven't spoken with Harry and he didn't speak with the players. Friday was a desperate day. I've spoken to Mark and he's obviously disappointed, but that's football. It's a results-driven business.
"We did well against United until the roof caved in through individuals not doing their jobs from set-plays."
United boss Ferguson had expected a difficult afternoon, stating: "We thought QPR would have a sudden surge of determination and enthusiasm. It happens all the time when a team loses its manager."
It's something United haven't had to experience for 26 years – not that the rest of the kneejerk Premier League have been taking note.
Watch Manchester United vs Queens Park Rangers match video:
[media id=727 width=610 height=340]
Chelsea 0 Manchester City 0:Its not easy Rafael Benitez job with this supporters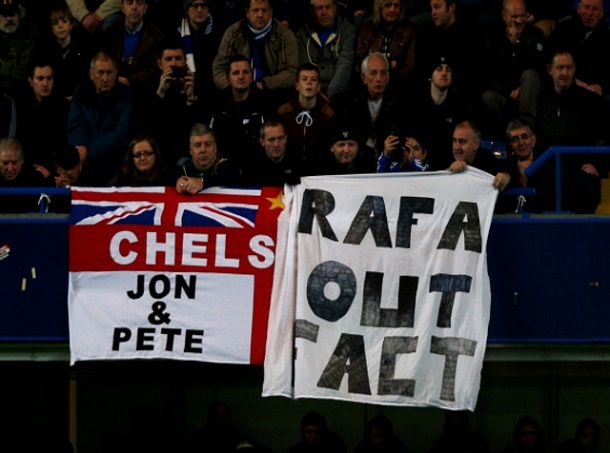 Rafa Benitez is just the man to transform poor Fernando Torres, to bring the best out of the misfiring £50 million Spaniard? Well, all the best plans take time, they say.
Rafa is the man who knows Fernando best, the man who he rates as the best coach he has ever worked for, the only man who can get inside the striker's head.
It probably isn't easy to get there, to be fair. Three other Chelsea managers have tried and failed and seen their dismissal notices drop on to the doormat as a result.
In Benitez's first match in charge since being appointed as Chelsea's ninth manager in nine years, Torres was marginally livelier, worked harder than he has done in recent games, but as ever, he fluffed the best chance he had. He remains a work in progress for Benitez.
But there was no question Chelsea's new interim manager made an impact in one way at a sodden Stamford Bridge. And we are not talking about the hail of booing from all around the ground that greeted him when he walked out of the tunnel.
As a former Liverpool manager who was less than complimentary about Chelsea, he had been promised a fierce welcome from fans who are going to take a while to accept him. And it was surely as brutal a greeting as any manager has ever had in British football, only cut short because of the minute's applause for former FA Cup-winning manager Dave Sexton, who has died aged 82.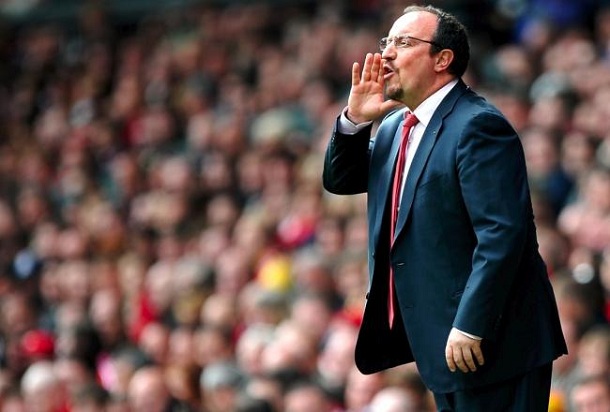 No, it was more in the grinding out of this goalless draw that steadied the ship after a dreadful week by even Chelsea's standards.
Their first clean sheet for 10 games, a gutsy, gritty performance where the best players on show were the defenders, Ashley Cole in particular, but also Branislav Ivanovic and Cesar Azpilicueta.
Welcome to the world of Benitez. Organisation, discipline, tactical plans which are excellent at stopping other teams playing. You know – that exciting flowing football Roman Abramovich had ordered his team to play this season, the style that they apparently did not show enough of last season, even though they won the Champions League under the hapless Roberto Di Matteo. We'll put that on hold for a while.
Di Matteo went at 4am last Wednesday because his team had lost their way in the league and are on the brink of going out of the Champions League. Benitez is here to put the train back on the tracks, and it may not be pretty.
That is not to say there were radical changes yesterday to the template which Di Matteo set out for this team at the start of the season. Torres was restored, and an unwell Gary Cahill was left out as David Luiz partnered Ivanovic in the centre of defence.
But Chelsea sat much, much deeper than under Di Matteo. Those skilful forwards this time chased back and harried, the second balls were mostly won. What developed was a war of attrition.
Top-of-the-table City still had the better chances and should have won. David Silva nodded over when he should have scored early on, and Petr Cech saved well from Pablo Zabaleta.
The downside of all the organisation and diligent defending was Chelsea managed just two shots on target all game, the first when Luiz's low free-kick was saved by Joe Hart. Those sceptical fans are going to want more than that, Rafa.
Silva missed an even better chance when he headed straight at Cech from six yards. But Chelsea did improve. Juan Mata fed Torres 10 yards out and the crowd held its breath…but he fired over. Luiz nodded over and saw another effort deflected wide, and then Cole cracked in a drive that Hart tipped superbly over. But these were mainly breakaways, with City for long periods camped around the Chelsea penalty area, frustrated time and again by a tackle, and quite often a poor final pass.
Right on the whistle, substitute Mario Balotelli raced through, ran straight into Luiz, and was booked for diving. Immovable objects, you see. Rafa loves them.
It was the first time Chelsea have not scored at Stamford Bridge since May 2. Maybe it will change against Fulham on Wednesday, maybe Rafa will have got inside Fernando's head. Maybe. But what is certain is that Chelsea will be solid. Fasten your seatbelts.
CHELSEA (4-2-3-1): Cech 7; Azpilicueta 7, Ivanovic 7, Luiz 7, Cole 8; Ramires 6, Mikel 6 (Romeu 79); Mata 6, Oscar 7, Hazard 6 (Moses 71, 6); Torres 6.
MAN CITY (4-3-3): Hart 7; Zabaleta 8, Kompany 7, Nastasic 6, Kolarov 7; Toure 7, Barry 6, Milner 7; Silva 7, Dzeko 6 (Tevez 69, 6), Aguero 6 (Balotelli 86) 6. Booked: Zabaleta, Balotelli, Kolarov.
Referee: C Foy (Merseyside).chelsea 0 man city 0
Watch Chelsea vs Manchester City match video:
[media id=728 width=610 height=340]
Tottenham Hotspur 3 West Ham United 1: AVB has not lost the derby this time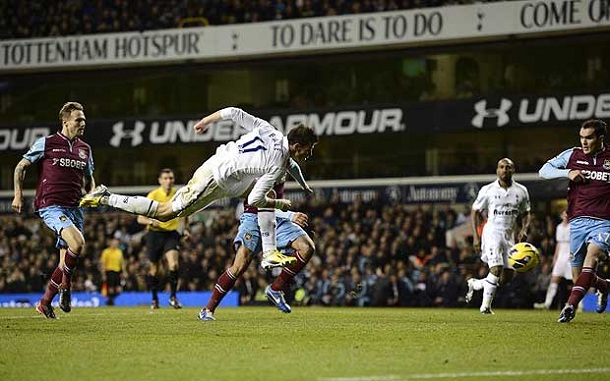 The ball from Kyle Walker hit the chest of Jermain Defoe at much the same time as Winston Reid clattered into the back of him out by the touchline, 35 yards from goal.
The England striker stood firm, turned and rode a challenge from George McCartney that ripped a trench in the White Hart Lane turf. The evocative smell of wet mud immediately assailed the nostrils.
Mark Noble's half-hearted lunge was more easy to evade and Defoe had time to pick his spot and fire off a low drive into the bottom corner of the net before McCartney could get back at him a second time.
The press box here is just behind the two dugouts – closer to the action than the artificial panoramas afforded at most Premier League grounds.
So it was a privilege to be that close to a piece of individual skill that should act as a reminder in these difficult times of why we all love this game. Thank Goodness for that because it set a course in an unsavoury London derby that meant, at the end of it, the best team won.
Even Andre Villas-Boas smiled as he recalled the moment just before half-time. "It was very similar to the goal he scored against Reading," the Tottenham manager said.
"Turning away from the defender and taking it on. In one-on-one situations, he's immense. He's an incredible striker. His moment of form is immense. And he's enjoying his football. "When we see strikers of this nature, their hunger for goals is exactly what you want and request.
"I couldn't ask for any more. And it was decisive, because it unlocked the game."
Tottenham had come within an inch of that after 12 minutes when Gareth Bale strode forward to shoot from 20 yards against the underside
of the crossºbar. But West Ham never seemed to recover from Defoe's opener and early in the second period he was in the hunt again, forcing James Tomkins to deflect a shot behind.
Hugo Lloris, an improving, semi-permanent figure now in the Tottenham goal, acted quickly to prevent Matt Jarvis from converting a rare Hammers attack.
But the crossbar was keeping Tottenham at bay at the other end, Clint Dempsey hitting it square on with his own 20-yard effort after 58 minutes.
It proved only a temporary reprieve as West Ham only regained possession when Jussi Jaaskelainen picked the ball out of the back of his net. Bale had the presence of mind to steer the ball there despite falling as he met Dempsey's pass back into the penalty area.
Six minutes later, it was game over as Sandro, who was later carried off with a stomach injury but is fit for Wednesday's home game with Liverpool, broke up possession and fed the ball to Dempsey. He, in turn, found Aaron Lennon, whose pace took him round Tomkins' challenge and through on goal.
Lennon could have shot. Instead, he squared to Defoe who had the easiest opportunity possible to inflict more misery on a club he professes still to love despite the abuse he has received since leaving them eight years ago. The positive West Ham could take from an uncharacteristically tepid performance was that, at the 11th attempt, Andy Carroll finally broke his scoring duck for the club.
Perhaps it is appropriate that exactly a month before Christmas he finally got the sort of 'Carroll service' on which he thrives.
Joey O'Brien's looping cross was all the invitation he needed to head in from close range for his first goal in 14 games for club and country.
It was brilliant for him – "And about time too, to be honest," he admitted – but little consolation for West Ham, and certainly not for their manager Sam Allardyce.
"It hasn't meant anything to us but it gets him off the mark," he said. "It shows the rest of my players if we put the ball in the right area, Andy will score.
"But the whole story looked like we were a bit overawed and I don't know why.
"We've made it easy for Tottenham to win and that's disappointing for me. We haven't been anywhere near our best.
"I didn't expect that. It really shocked me, but we have to take it on the chin and get better.
"I want tus to bounce back now. We have not suffered back-to-back defeats yet. It will be a big ask on Wednesday, mind you – at Manchester United!"
TOTTENHAM (4-4-2): Lloris 6; Walker 7, Dawson 6, Caulker 6, Vertonghen 7; Lennon 7 (Dembele 79), Huddlestone 6, Sandro 7 (Livermore 86), Bale 8; Dempsey 7, Defoe 9 (Sigurdsson 90). Booked: Defoe. Goals: Defoe 44, 64, Bale 58.
WEST HAM (4-4-2): Jaaskelainen 6; O'Brien 6, Tomkins 7, Reid 7, McCartney 6; O'Neil 5 (Taylor 55, 5), Noble 5, Diame 6, Maiga 4 (Jarvis 31, 6); Nolan 6 (Cole 68, 5), Carroll 6. Booked: O'Brien, Noble. Goal: Carroll 82.
Referee: A Marriner (West Midlands).
Watch Tottenham Hotspur vs West Ham United match video:
[media id=729 width=610 height=340]
Barclays Premier League game week 13 other Results
Sunderland 2 – 4 West Bromwich Albion
Wigan Athletic 3 – 2 Reading
Stoke City 1 – 0 Fulham
Everton 1 – 1 Norwich City
Aston Villa 0 – 0 Arsenal
Swansea City 0 – 0 Liverpool
Southampton 2 – 0 Newcastle United