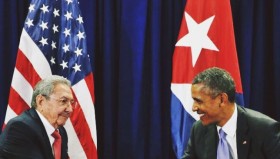 Lifting a trade embargo against Cuba would benefit the U.S. as it could create 33,000 potential jobs for Americans, a former political prisoner said Tuesday.
"If there was no embargo and the U.S. market would open to them we could import 6, 7 or more billion dollars a year from Cuba," according to Alan Gross, who while working on a project to provide Internet-based-satellite communications services to the island, was arrested and sent five years in a Cuban prison.
The current workforce participation in Cuba's private sector is currently 11 percent, Gross said, and the country needs direct foreign investment in order for it to grow.
"There will be no substantial foreign direct investment till the embargo is lifted," he said, adding U.S. President Barack Obama did his best to help the process and urged Congress to take action.
Although some commercial restrictions have been lifted between the two countries since the Cold War foes announced a warming of relations in late 2014 that directly led to Gross' release, only Congress can fully lift the embargo.
Exports would be the engine of future economic growth for Cuba, he said, adding that the single most significant issue affecting the island economy was "productivity", not the embargo.
The U.S. has created 5,556 jobs in the last five years from business with Cuba, according to Gross, and one U.S. job is created for every $180,000 of exports, he added, citing Commerce Department statistics.
Obama's visit to the island next week is "very timely" as Cuba is "a legacy item for the president" during his last 10 months in the office, Gross said.
"It's time to break from the chaos and work on a new leave. Normalization is not gonna occur for many years," he said, adding that the process would take time.
In meeting with Obama last week, Gross said he learned that the president will not meet with former Cuban President Fidel Castro, but would instead have an audience with current President Raul Castro and First Vice President Miguel Diaz Canel.
"Fidel represents the worst of human rights abuses, Fidel represents the crimes against humanity. President Obama and President Raul Castro don't represent those things," he said in relief.
While acknowledging that he became an "unintentional catalyst for a huge change in U.S.-Cuba relations," Gross said that after his release in 2014, he became "an intentional catalyst" and supported progress evolving from the already constructed engagement between U.S. and Cuba.
Obama's upcoming "historic" visit will be the first by a sitting U.S. president in nearly 90 years, which came less than a year after Washington and Havana restored diplomatic ties last July by re-opening embassies in each other's capitals.
The US has maintained an economic embargo against Cuba since 1960.
Esra Kaymak Avci / Anadolu Agency