Real Madrid vs Manchester City Champions Leauge 2012 match saw a stunning comeback from Real Madrid to beat English champions Manchester City with 3-2. Hero or anti-hero, a Cristiano Ronaldo goal in last minute cruised Real Madrid to victory in their Group D opener vs Manchester City in a thrilling end
Real Madrid vs Manchester City Champions League 2012 match saw a stunning comeback from Real Madrid to beat English champions Manchester City with 3-2. Hero or anti-hero, a Cristiano Ronaldo goal in last minute cruised Real Madrid to victory in their Group D opener vs Manchester City in a thrilling end.
Real Madrid vs Manchester City Champions League 2012 Opener / NationalTurk – The outstanding game of the Champions League night was in Madrid's temple Bernabau where all five goals came in the final 22 minutes with Manchester City taking a 1-0 lead through Edin Dzeko before Real Madrid's Brasilian wing-back Marcelo managed to equalise six minutes later.
Real Madrid vs Manchester City was indeed the most anticipated matchup in the Champions League group stage that lived up to the expectations as Real Madrid came from behind twice to rape Manchester City from behing with 3-2 at the Bernabeu.
Actually Real Madrid vs Manchester City game was far from the anticipated quality level, that until the 68th minute. Troubled Real Madrid star Cristiano Ronaldo failed to make the most of his opportunities for 90 minutes on Tuesday, but he came up huge in stoppage time, netting a winner for Real Madrid in their massive Champions League opener matchup with Manchester City.
Real Madrid didn't look much better than they did in a loss vs Sevilla over the weekend, but they found a way to net three goals and take a crucial three points from Manchester City. The Citizens couldn't have expected points at the Bernabeu, but they'll be extremely disappointed at how they lost what would have been a stranglehold on their group in a span of just four minutes.
Real Madrid vs Manchester City as it happenned First Half of Real Madrid vs Manchester City
Manchester City keeper Joe Hart was called upon in the first half to make a few spectacular saves to keep the Galácticos out of the net. In the first half, Joe Hart was the main story as he came up with two incredible saves to keep the game scoreless. The Citizens held the home side scoreless throughout the first half, then confused them with a change of formation that was partially necessitated by an injury, but likely a tactical decision by Roberto Mancini as well. City did well to take the lead on two occasions, but Madrid broke down the visitors' defense twice in the closing minutes and rallied back for a 3-2 victory.
Ronaldo regularly beat Maicon down Madrid's left throughout the first half, while opposite side winger Angel di Maria looked dangerous as well, but Madrid failed to find a breakthrough in the first half. Vincent Kompany made a couple of great late tackles, while Joe Hart looked very sharp in goal.
Samir Nasri picked up a hamstring injury in the first half, and Mancini brought on Aleksandar Kolarov, hardly a like-for-like switch. The move led to a formation change, with Gael Clichy coming inside and City switching to three at the back. They further switched up their formation in the 63rd minute, when Edin Dzeko entered for David Silva.
Real Madrid vs Manchester City Second Half
In the second half, the game took a wild turn. Yaya Toure found Edin Dzeko on a counter attack to open up the scoring in the 68th minute, giving City the lead despite having been on their heals for most of the match.
But Madrid pulled level with a fantastic shot from Marcelo in 76th minute after the Brazilian had been close to scoring on previous occasions. City then regained the lead on a dipping free kick from Alexander Kolarov in the 85th minute.
The game continued on at a frantic pace and just two minutes later Karim Benzema fired low into the corner to give the Spanish side its second equalizer of the match. Then Cristiano Ronaldo was finally able to beat Hart in the 90th minute, a fitting end to a remarkable match.
In the 69th minute, that substitution paid off. Yaya Toure provided an absolutely brilliant setup for Dzeko with a powerful run down the center after Madrid lost the ball in City's half. He played a perfect pass into the path of Dzeko on the counter, and the big center forward applied a composed finish to put Manchester City ahead.
The goal was a wake-up call for Madrid, who began to play with more urgency. They brought on Mesut Özil shortly before the goal, and made two more attacking changes after the goal by bringing in Karim Benzema and Luka Modric.
Los Merengues found their equalizer through Marcelo in the 76th minute. The goal had been coming for quite some time, and it was a well deserved one for Marcelo, who had an excellent game down Madrid's left. His strike from the edge of the box took a deflection that created an unstoppable shot for Hart, but it was an excellent shot nonetheless, and he might have scored even if his shot never took that deflection.
Real Madrid continued to press for a winner, and a City goal seemed a bit out of the question until they won a free kick in the 86th minute. Kolarov stepped up and delivered a sharp curling ball to the back post that was a bit of a half-shot, half-cross. No one got on the end of his ball, but it curled perfectly to allude Iker Casillas, then bounce into the back of the net to give the Citizens a shock lead. Aleksandar Kolarov put Manchester City back in front with a free-kick after 85 minutes which looked like the winner Unfortunately for Manchetser City, there would be no famous upset. Just one minute after Kolarov's goal, Benzema netted an equalizer, turning in an assist by Di Maria. Both sides fought for the winner during an incredible back-and-forth period of three minutes, but City's aggression came back to bite them.
Real Madrid vs Manchester City Goals Video : Watch Ronaldo breaks Manchester City's  and Joe Hart's heart and watch Mourinho ruining his suit in gliding goal celebration
[media id=645 width=610 height=340]
Because Karim Benzema equalised in the 87th and Ronaldo, the ex-Manchester United forward, struck in the 90th to bury the visitors. Joe Hart had made a string of important saves to deny Real Madrid in the first half, but he was at fault for Benzema's 87th-minute equaliser and also culpable for Ronaldo's 90th-minute strike –Following a counter, they left themselves exposed at the back. Ronaldo took advantage of space that wouldn't have been there if City were playing for the draw, cut inside, and delivered a finish to the back post from 12 yards in the first minute of stoppage time. Hart got his hand to it and could have made a save, but he was screened by a ducking Kompany and reacted to the shot late. which hit the back of the net after captain Vincent Kompany ducked out of the way of the shot.
Real Madrid vs Manchester City 2012 Champions League : Jose Mourinho and his trademark gliding goal celebration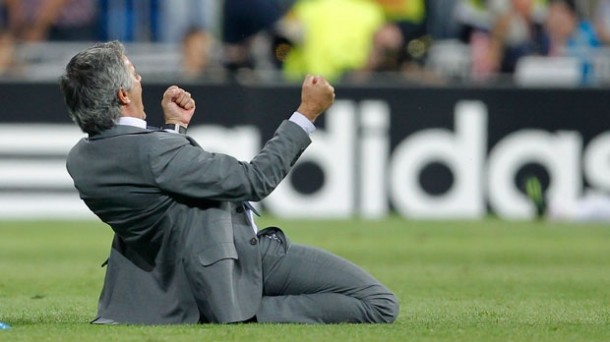 Jose Mourinho jumped then from Real bench and made his trademark 'important goal' celebration by gliding on the pitch on his kness despite ruining his expensive suit.
But having taken the lead through Aleksandar Kolarov's 85th-minute free-kick, Mancini insisted that his players contributed to their own downfall by sitting back on their lead. "I don't want us to continue to defend like this, and we did a mistake like that." Mancini said. "When it was 2-1, we should have continued to play high like we did in the second half.
Cristiano Ronaldo upon a question on his current unhappy stature at Real Madrid answered : " I celebrate when I have to celebrate " said in an interview with Spanish television. The jubilant Ronaldo has scored now 151 goals in 151 appearances for Real Madrid.
Real Madrid vs Manchester City: Roberto Mancini slaps down Joe Hart for criticism of team
Manchester City's Italian manager Roberto Mancini urged Joe Hart to "stay in goal and make saves" after being angered by the goalkeeper's claim that Manchester City were to blame for their dramatic 3-2 defeat by Real Madrid.
Real Madrid vs Manchester City 2012 Champions League : Mancini blames City's late collapse
Mancini blamed City's late collapse on a lack of "courage" in their play in the closing stages, but despite the Italian appearing to echo Hart's criticism of the team's performance, he bristled at the post-match comments of the England No1.
Moments after the final whistle, Hart said: "We blame ourselves. We don't credit Real. They are a very good team, but we got a lead twice and lost it." Although Hart's comments were echoed by scorer Edin Dzeko, Mancini was quick to condemn the keeper's remarks.
Real Madrid v Manchester City : From Mancini to Joe Hart : stay in goal and make saves ! 
"Joe Hart should stay in goal and make saves." Roberto Mancini harshly said after Real Madrid vs Manchester City game was over. "If anyone should criticise the team it should be me, not Joe Hart. I am the judge, not Joe Hart." Typical mancini losing attitude…
EPL champions Manchester City showed an appalling performance. They tried to park the bus and failed miserably ….if you're gonna try to do that do it well. Actually close the gaps and block the balls, don't just give Real that much space to shoot. Joe hart had his hands full. And leave it to Toure to make a goal out of nothing, because that's what this Man City performance was: nothing. As a barca fan I can honestly say that Real Madrid deserved to win. They constantly attacked and were denied by a brilliant Joe Hart.
Kompany basically looked like an overrated player today…but he wasn't helped either by Maicon ( who needs to retire btw). This reminded me of when Gareth Bale was toying with him 2 years ago.Brilliant to watch if you like a lot of actions and shots but a nightmare for Manchester City fans.
Jose Mourinho praise for Real Madrid players : They were like animals 
JOSE MOURINHO, the ever-eccentric manager of Real Madrid stated ahead of Real Madrid vs Manchester City match that Manchester City will eventually win the Champions League should they continue developing at their current rate.
After the Real Madrid vs Manchester City thriller Mourinho praise his squad. ' It is not important that we lose or win a game like this, when my players play like this. They worked hard like animals on the pitch and their efforts paid off at the end.
Real Madrid aim to become European Champions League winners for a historical 10th time at Wembley Stadium next May and their opening group win vs Manchester City against the odds in the closing minutes of that thrilling Real Madrid vs Manchester City match, will only boost their confidence after a slow start to their La Liga season vs their arch-rivals Barcelona.