Turkish soldiers killed in PKK attack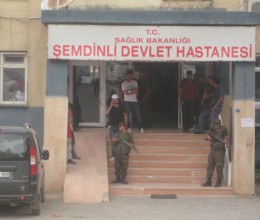 Eight Turkish soldiers were killed overnight in an attack on an army post by members of an outlawed terrorist group in southeast Turkey, near the border with Iraq.
The attack blamed on the outlawed Kurdistan Workers' Party, or PKK, took place at a military post near the city of Şemdinli close to the Iraqi border, and also left 14 soldiers wounded.
The military statement said that the military responded with helicopters and reportedly killed 12 terrorists. Fighter jets then launched a bombing raid in northern Iraq where the PKK has rear bases, the military said.
On Friday the Turkish military announced that at least 130 members of the PKK had been killed inside Turkey and in an air raid on hideouts in Iraq since violence flared in March. The military had lost 43 personnel.
The military also said it expected the PKK to further intensify and spread its attacks.
The mounting violence in recent months has clouded the government's bid to seek a peaceful end to the 26-year-old conflict.
The conflict with the PKK, considered a terrorist organization by Turkey, the United States and the European Union, has claimed more than 45,000 lives since it began in 1984, according to the military.