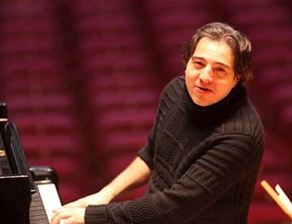 Turkish-born pianist and composer Fazil Say's recent twitter messages have been found offensive to Islamic belief and will be investigated in Turkey.
Istanbul / NationalTurk – With an official complaint to the prosecution office in Istanbul, Turkish pianist and composer Fazıl Say is accused of offending Islamic belief and abusing the muslims and possibly causing public resentment with his messages on the social networking site, Twitter.
The accusation also adds Fazıl Say has offended not only Muslims, also Cristians and Jews and that his messages go against the Turkish penal code's articles of 301 and 1-2; ' Instigation the public towards hatred and hostility, insulting religous values '
Fazıl Say has been called a prankster, a madcap, sometimes a fraud. Others prefer to call him a multi-faceted virtuoso with a colourful style. As a prolific composer of orchestral and piano solo music and of music for ballet, theatre and cinema, Say often strives to create a bridge between eastern and western musical traditions, an aim also pursued since he was appointed Culture Ambassador by the European Union in 2008.
Fazıl Say's twitter messages – 'tweets' – which created havoc on all platforms in Turkey :
' Muezzin 22 saniyede okudu akşam ezanını yahu. Prestissimmo con fuco!!! Ne acelen var? Sevgili? Rakı masası? ' ( the muezzin has recited the evenin azan in 22 seconds. Prestissimmo con fuco!!! What's the rush? Lover ? Raki binge ?)
' I am an ateist, don't know 'bout the rest '
' I am an ateist and proud to have said it loud and clear '
[adrotate banner="33″]