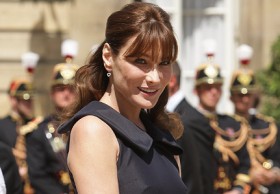 French first lady Carla Bruni will appear in a new Woody Allen movie.
The movie will also star French Oscar winner Marion Cotillard and Hollywood actors Owen Wilson and Rachel McAdams.
Earlier, 42-year-old Bruni has played herself in Robert Altman's Pret-a-Porter.
Before her acting career and romantic relationship with French President, Ms. Sarkozy was a singer and songwriter. She had released a string of popular French albums.
It seems that Bruni Sarkozy is destined to be in the news as a documentary about her is scheduled to air very soon.