Michael Phelps almost failed to qualify for the final of the 400m individual medley.

Michael Phelps almost failed to qualify for the final of the 400m individual medley.
Amid all the drama, a cameo appearance from the Queen, arriving by land this time, had to work hard to be among the highlights.
There was an unexpected scare for Phelps as he came 0.07sec from failing to qualify for the final of the 400m IM. "I didn't expect those guys to go that fast [but] a final spot is a final spot," he said. "I was slower this morning than I was four years ago, so I guess that's probably the only difference. I think the only thing that matters is really getting a spot in [the final]. You can't win the gold medal from the morning."
Phelps appeared to have done enough in his heat when he touched in ahead of Laszlo Cseh, the European champion and Olympic silver medallist. Neither swimmer realised how important that fraction of a second would prove to be. In the following heat, with the pace set by Ryan Lochte,
five swimmers went quicker than Phelps and there was panicked moment before the scoreboard.
He will now take an outside lane for tonight's final. His rival, Lochte, will be closer to the action having qualified in third. Both Americans will have their eye on Japan's Kosuke Hagino, the 17-year-old from Japan, whose qualifying time of 4.10.01 broke the Asian record.
Neither British swimmer made the final, Roberto Pavoni coming 13th and Joe Roebuck 24th, the latter being the first British swimmer in the pool.
In the women's 400m IM, Miley qualified for the final this evening, winning her heat in 4:34.98 to qualify in 6th overall. The challenge for Miley was to qualify for the final without laying open her race plan or pushing herself too hard. In that respect it looked like an ideal swim: she can go significantly quicker.
And she will need to. Not only did the American favourite, Elizabeth Beisel record a time of 4:31.68, quicker than her time to win gold at the World Championships last year, but China's Shiwen Ye was not far behind in 4:31.73. Miley was not writing off Rice, either. "It's good
[to beat her]," Miley said, "but maybe she went a little bit slower – that means she's got more in the tank for tonight. Who knows?"
The best swim of the first morning session belonged to Dana Vollmer, of the United States. She went for it in the 100m butterfly and her time of 56.25 broke Inge de Bruijn's Olympic record of 56.61. The Dutch swimmer set that record in Sydney 12 years ago, so it was an iconic moment
and surprising that it happened in a first round heat.
In the other 100m butterfly heats, both GB swimmers qualified comfortably for tonight's semi-finals, Fran Halsall coming in eighth and Ellen Gandy in ninth. Both will look to go quicker this evening to ensure their place in tomorrow's final.
"It is always a little bit nerve-wracking going into that first race," Gandy said. "I just wanted to get it out of the way so I can go through to the semi tonight and try to lift my game a bit. In the first race you don't want to get over-excited. It is just good to get in the pool."
Halsall was full of praise for the crowd in the Aquatics centre. "All I could hear was the crowd going haywire," said Halsall. "They tried to quieten them down and everyone was still shouting. It really made me smile and relax. It was the first swim so I was pretty nervous. It's nice to have that little bit of extra relaxation."
There was drama in the heats for the 400m freestyle final too. Park Tae-hwan, the Korean World and Olympic champion, won his heat in a time that would have easily got him into the final. Then it flashed up on the scoreboard: Park had been disqualified. It was a huge blow for a swimmer who had expected to duel it out with Sun Yang for gold.
Sun Yang made no mistakes in his heat, qualifying quickest in a time of 3:45.07. There was good news for Britain's veteran David Carry, 30, whose time of 3:47.25 was enough to get him into tonight's final in seventh. Robbie Renwick delivered an excellent swim to beat the German
world record holder Paul Biedermann in his heat but his time of 3:47.44
only got him to a frustrating 10th.
In the men's 100m breaststroke heats, Michael Jamieson, with 59.89, and Craig Benson, with 1:00.04, swam personal bests to make the semi-finals – Jamieson finished ninth, and his stronger event, the 200m breaststroke, is yet to come.
There was more good news for the GB women's 4x100m freestyle relay team who qualified for their final in joint seventh. Australia qualified quickest, just ahead of the United States.
London 2012 Olympics: China's Yi Siling wins first gold medal of the Games in 10m air rifle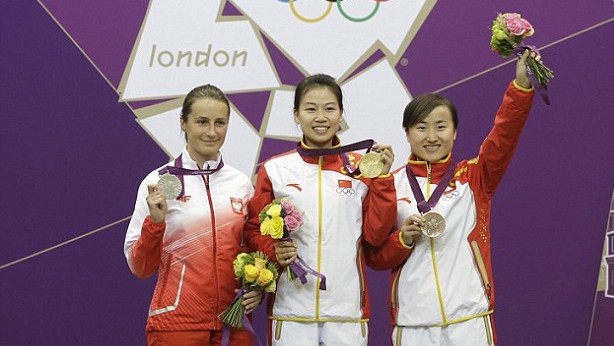 China's Yi Siling shot straight into the history books today, clinching the first gold medal of the London 2012 Games in the women's 10m air rifle discipline. The 23 year-old world No 1 beat Poland's Sylwia Bogacka by 0.7 points in a nerve-racking Olympic final at the Royal Artillery Barracks in Greenwich, London.
She has had gold in her crosshairs for years and admitted to feeling the pressure to put China on the medal table less than 11 hours after Sir Paul McCartney closed the Opening Ceremony. Fellow Chinese shooter Yu Dan took the bronze medal.
Yi said: "I am very grateful to China and to my mother and father who I love very much. I am pleased, not nervous like I was in the competition. There was a lot of pressure on me."
Yi's win follows her gold in Munich in the International Shooting Sport Federation's World Cup series.
Bogacka and Yi were tied for much of the final, with small gaps only appearing occasionally in a tense 20 minutes with 10 shots each. The Pole narrowly beat Yi in this morning's qualification.
Yi fought off 56 rivals, including Nur Suryani Mohamed Taibi, who is eight months pregnant.
The Malaysian finished 34th in the qualification round, but was mainly thankful she did not go into labour during the competition.
"I just prayed that I could get to a labour room," she said. "I told her to behave herself. I felt only three or four kicks during the competition. When she kicked I tried to breathe in, breathe out and make myself calm."
London 2012 Olympics : Russia crash to China in beach volleyball opener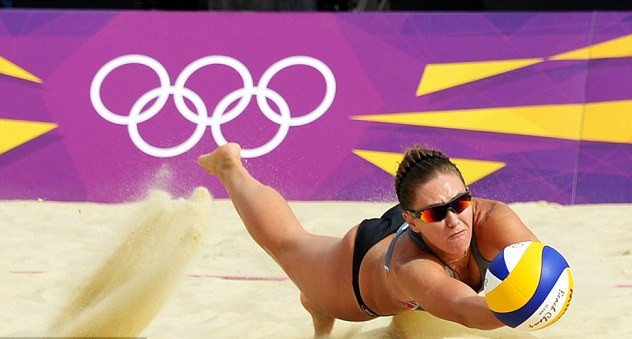 The beach volleyball competition at Horse Guards Parade threw up an immediate upset as Chinese second seeds Xue Chen and Zhang Xi slipped to defeat in their opening Pool B match against Russia.

Xue and Zhang, bronze medallists in Beijing four years ago, began among the favourites for gold this time but could not have got off to a worst start to their Olympic quest as they fell to a 18-21, 21-14, 16-14 loss to Anastasia Vasina and Anna Vozakova.
China looked home and dry when they ran up two match points at 14-12, but some great defensive play saw the Russians pull back level, before they forced match point for themselves at 15-14, which was converted when Vasina's spike cannoned out of bounds off the helpless Zhang.

Next up for the Chinese pair is a meeting with Switzerland on Monday, and Zhang admitted improvements were required.

'I did not feel right before the game and maybe our preparation was not right,' she said. 'We must focus next time. The Russians played really great and there's been lots of pressure on us and we made lots of mistakes.'